I know there is a graphics showoff forum but the last time I posted something with 55+ hours work in it it got 25 views and 2 replies, that place is dead and is more about signatures/desktops then something like this, so I hope this isn't too out of realm for the general board.
Anyway I've done Ranger art projects for years and this is my latest one, I of course like to receive comments but thought some people might genuinely like to take a quick glance as well.
This is a digital rendering of rangers ballpark in arlington done in photoshop with photo reference from a picture I took though of course everything on screen is from scratch. Initially my plan was to do the cartoon version with as many players as possible as an autograph grab that would be particularly cool for me to have and since I've got free time heh and just enjoy doing it. Afterword I kept working on a more realistic version of just the ballpark as its own piece. Heres what I ended up with, any feedback appreciated, assuming this is even deemed appropriate for general discussion heh.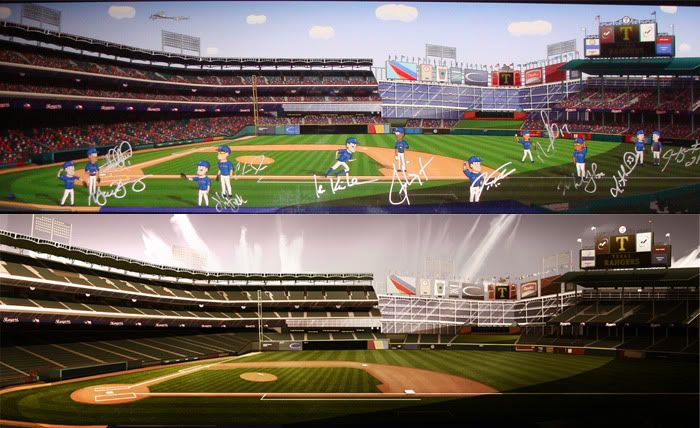 Links to highres versions of:
Signatures
(still bad quality)
Original cartoon file
Realistic version dusk
Realistic version night
The signatures from left to right are Michael Young, Elvis Andrus, Hank Blalock, Chris Davis, Ian Kinsler, manager Ron Washington, Josh Hamilton, Nelson Cruz, Marlon Byrd, Kevin Millwood and Jarrod Saltalamacchia.