So me and a buddy made it down to Spring Training for the first time this year and had a blast. Definitely going to try to make it an annual event from now on. Figured some of you guys might enjoy a trip report and a bunch of baseball pics (though my friend's camera isn't that great).
We left my house in LA at about 10:15, giving us a couple of extra hours to get to Arizona for our first game at 6. About an hour into our journey (around 11:20), I make the devastating realization that our tickets for Saturday and Sunday are sitting on my desk at home. Yes, I am complete idiot and managed to forget the most important thing. We proceed to turn around and are back on the road again at around 12:30 PM giving us 5 and a half hours until the game starts. Google says the drive takes 5 hours 45 minutes so we're gonna be cutting it close. We managed to miss most of the LA traffic and pulled into the parking lot in Arizona at around 6:10, missed the top half of the first inning where the Dodgers scored 3 runs but managed to sit down to see the Royals come up (Dodgers/Royals was the only night game that day). Since we didn't care too much for either team and had just made a long drive we got outfield grass seats for this game to just chill.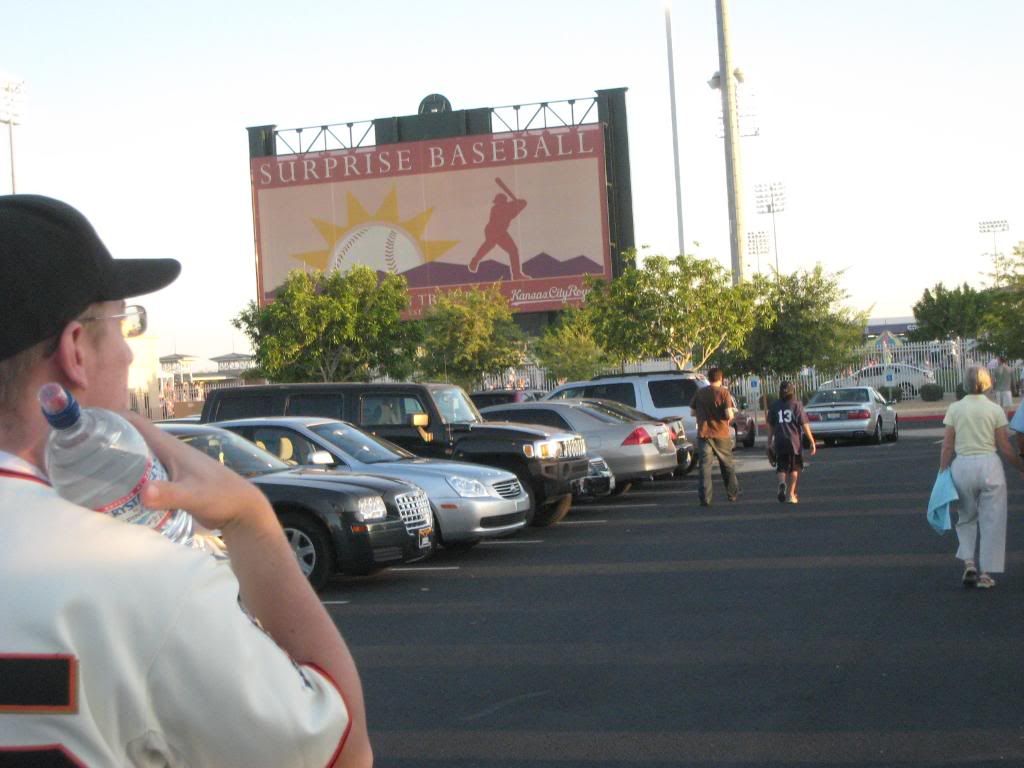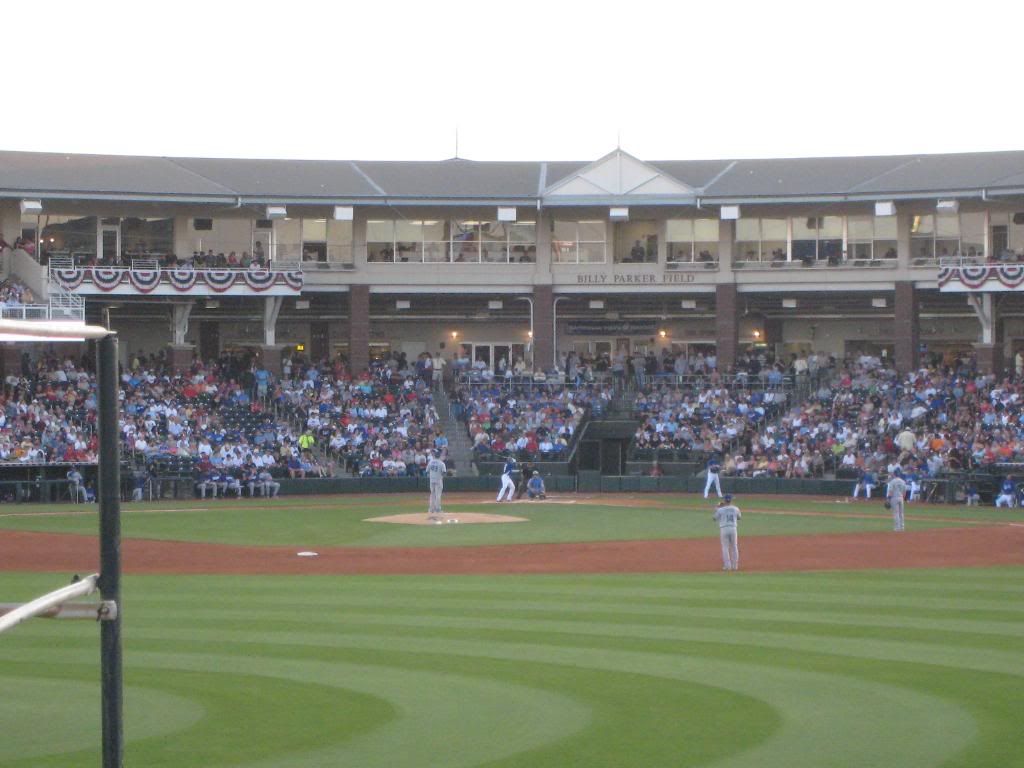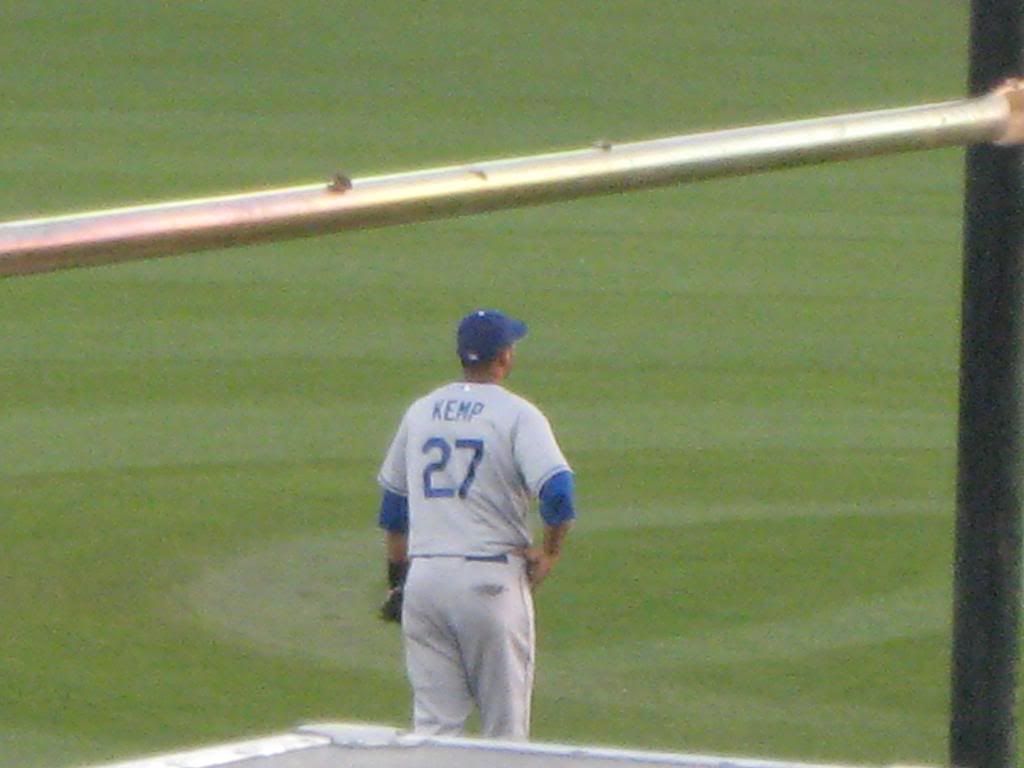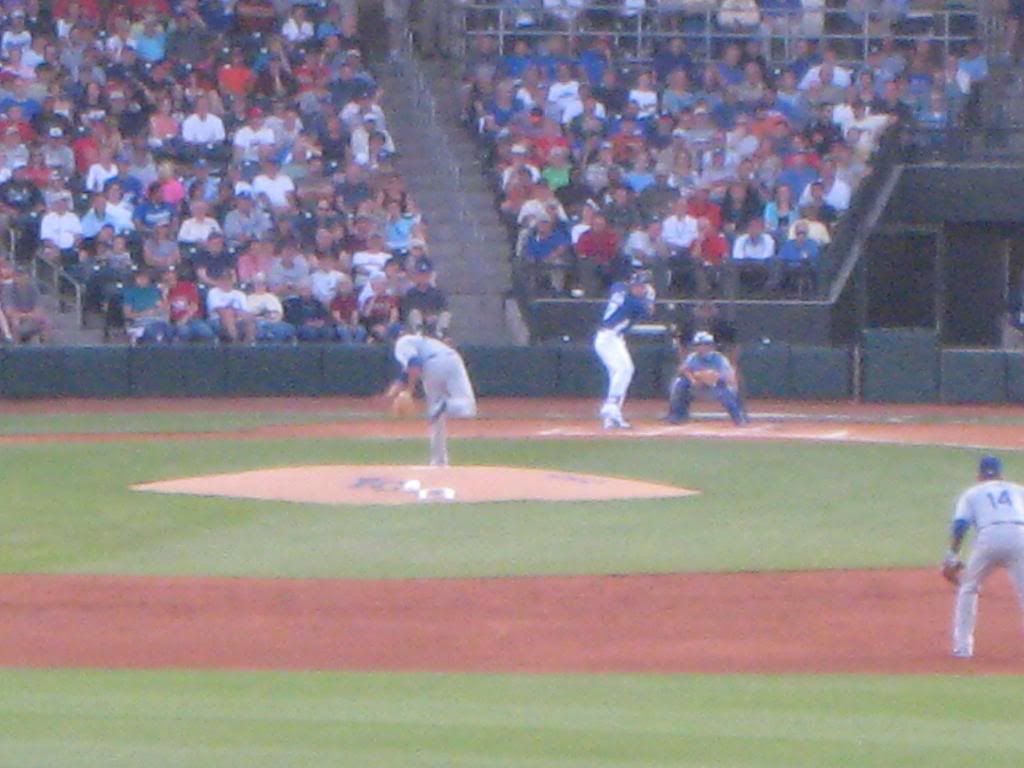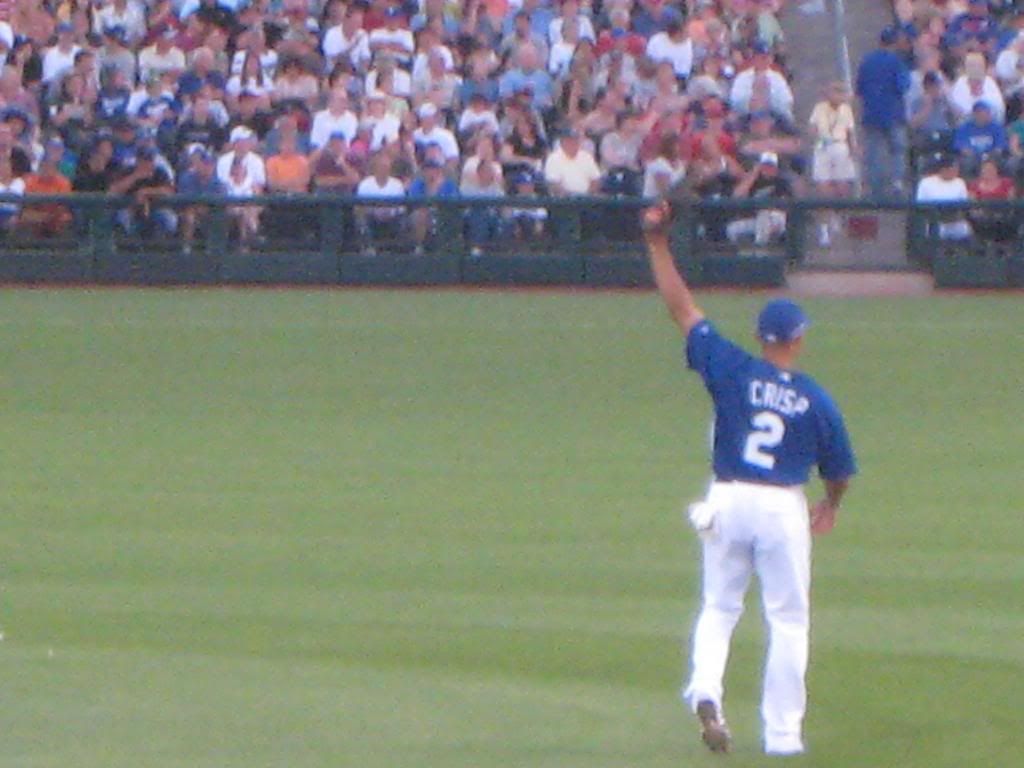 David DeJesus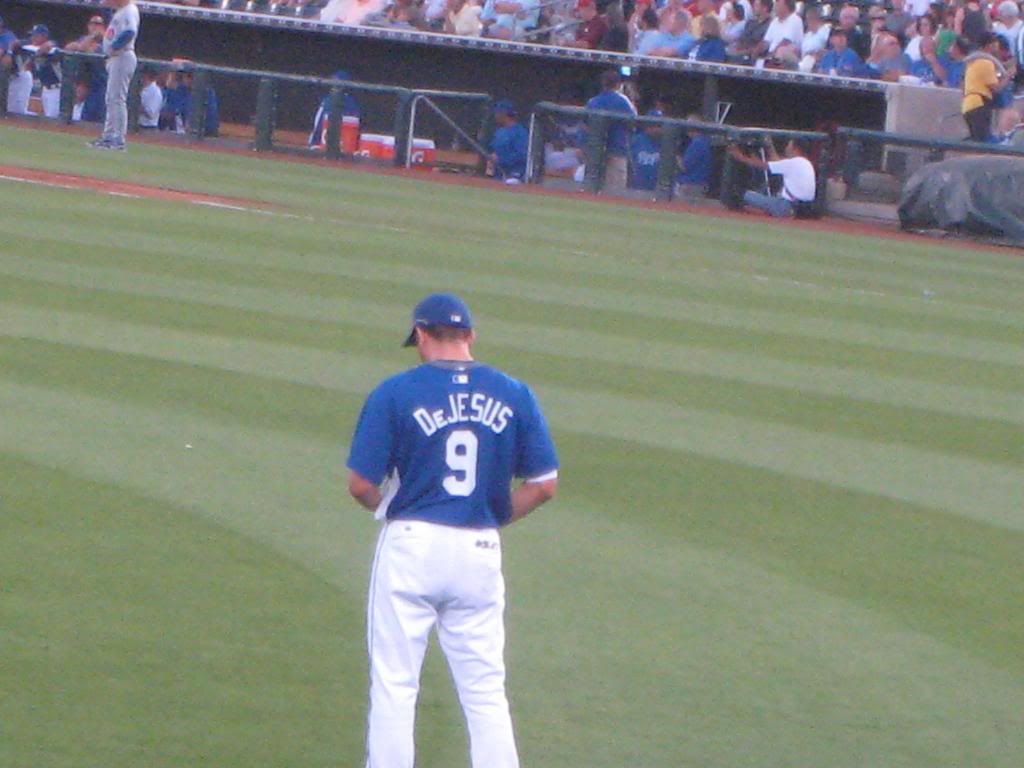 they put on a pretty good fireworks show during the 7th inning stretch of every game.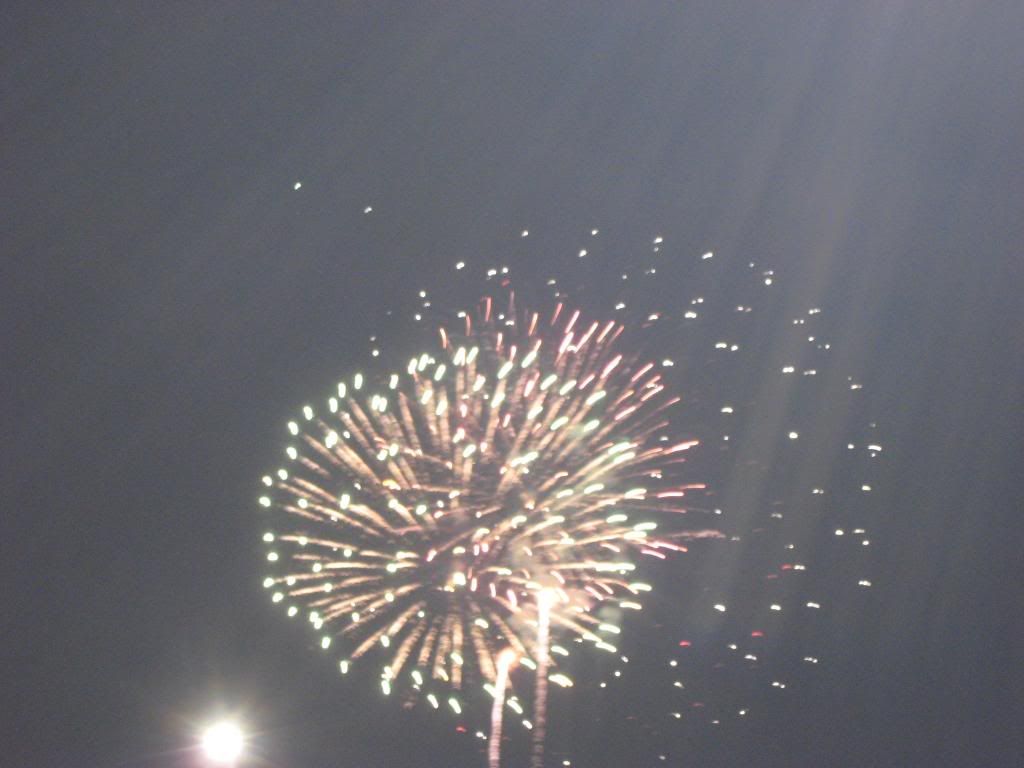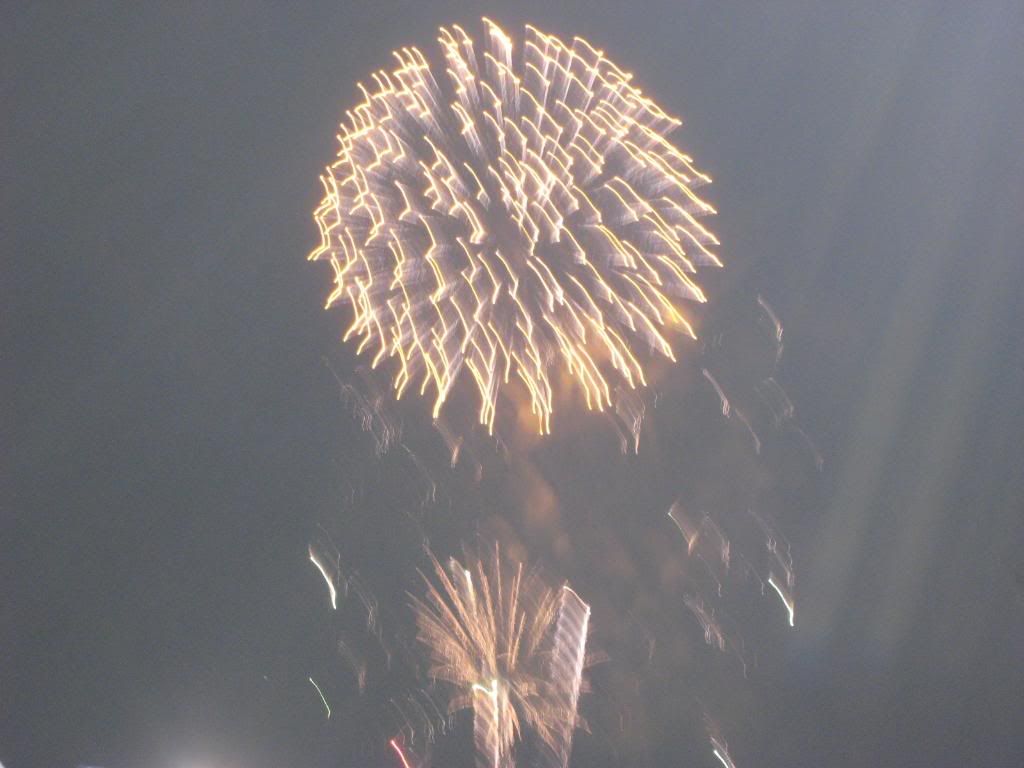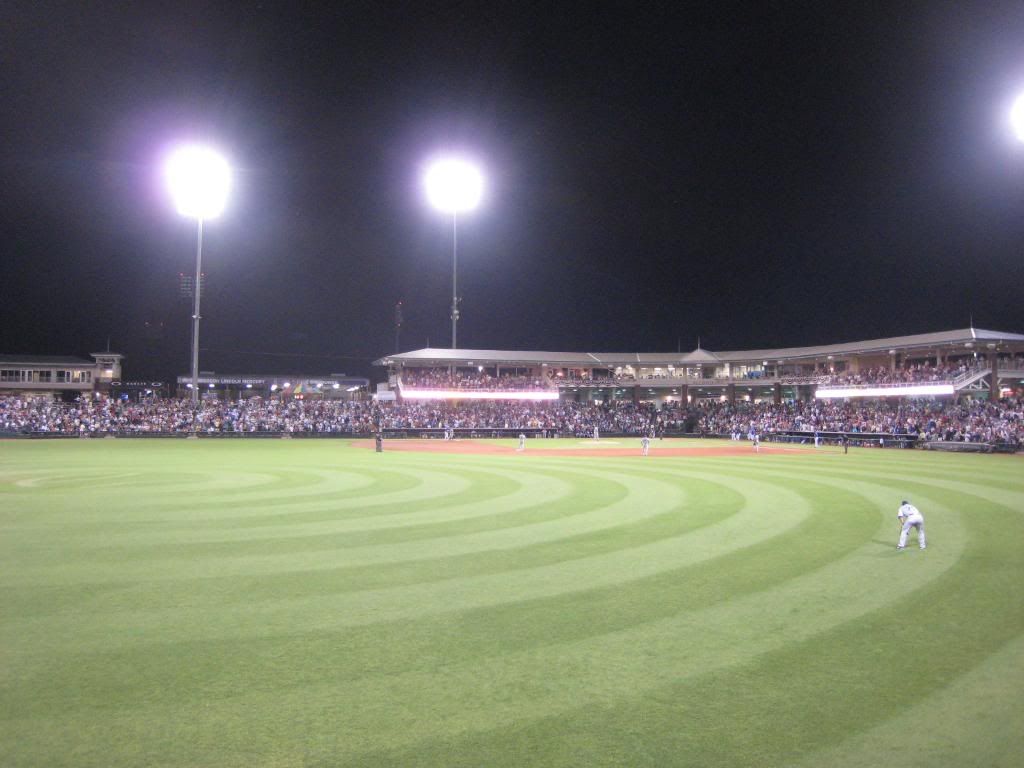 The next day was the Giants vs the A's and it was an awesome game for quite a few reasons. Both teams had a split squad that day and I was pretty disappointed that Timmy wasn't there. I was hoping to at least see a RJ or Sanchez start but none of the rotation was at this game and Giants prospect Kevin Pucetas ended up starting the game against the A's Trevor Cahill. We got there a little early so we played some catch in the parking lot until the gates opened.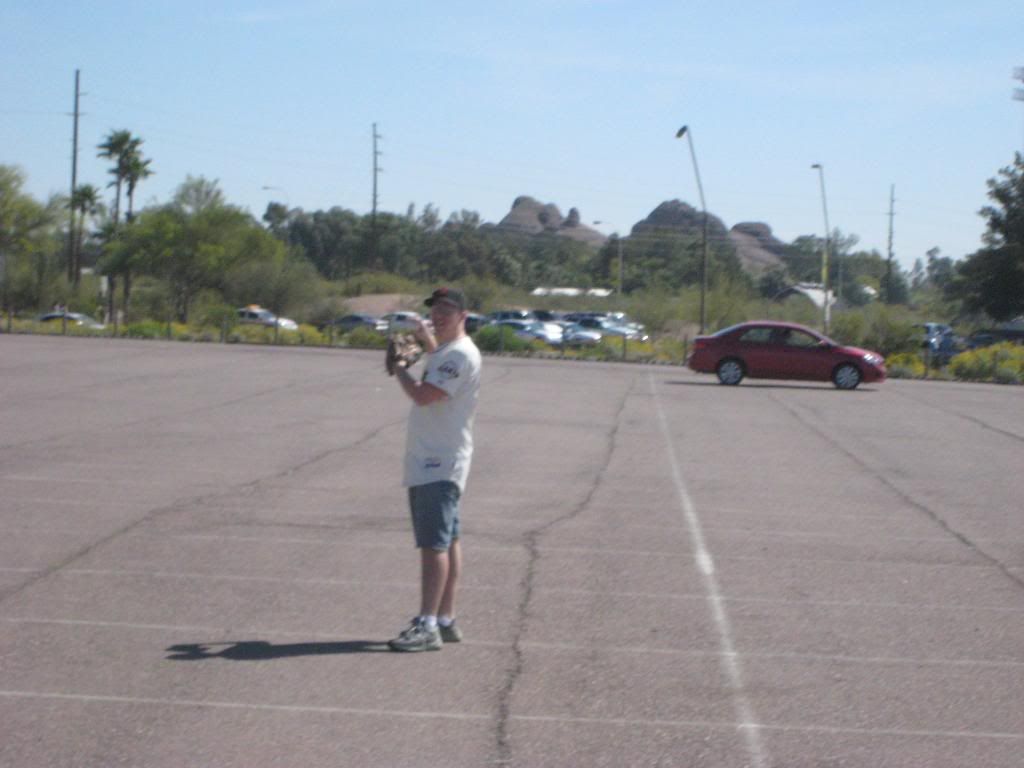 got in and took our seats, which were pretty awesome. one of the best things about spring training is how close you can get to the action and the players for cheap.
saw Brian Sabean up in one of the boxes but couldn't get a clear picture of him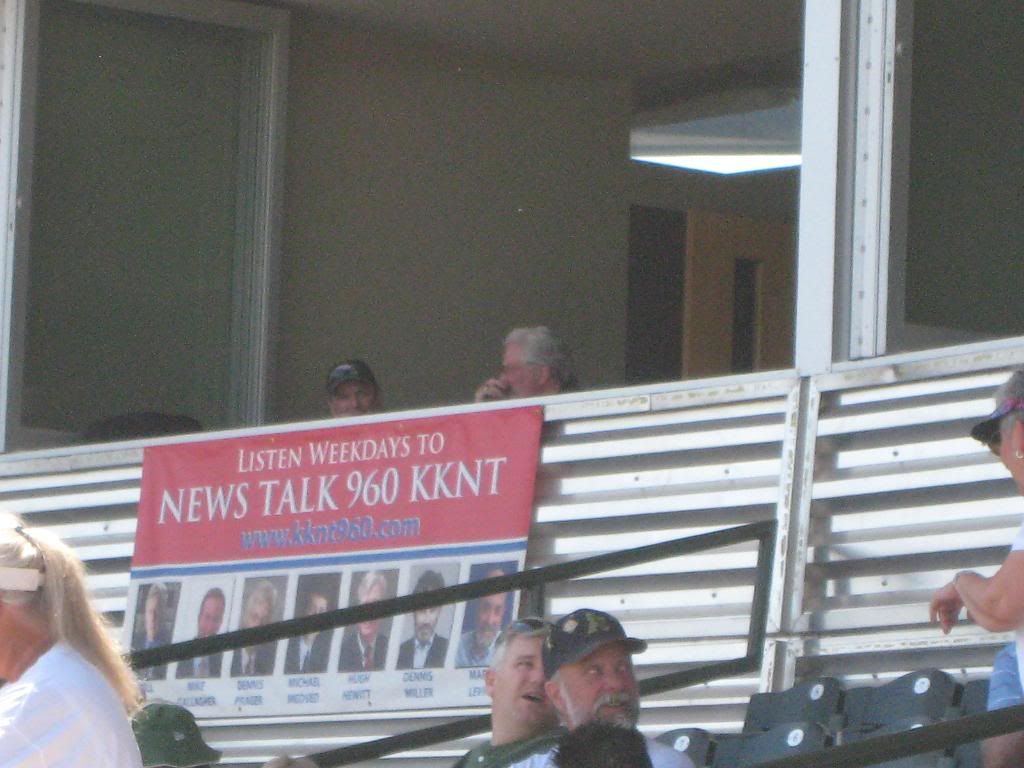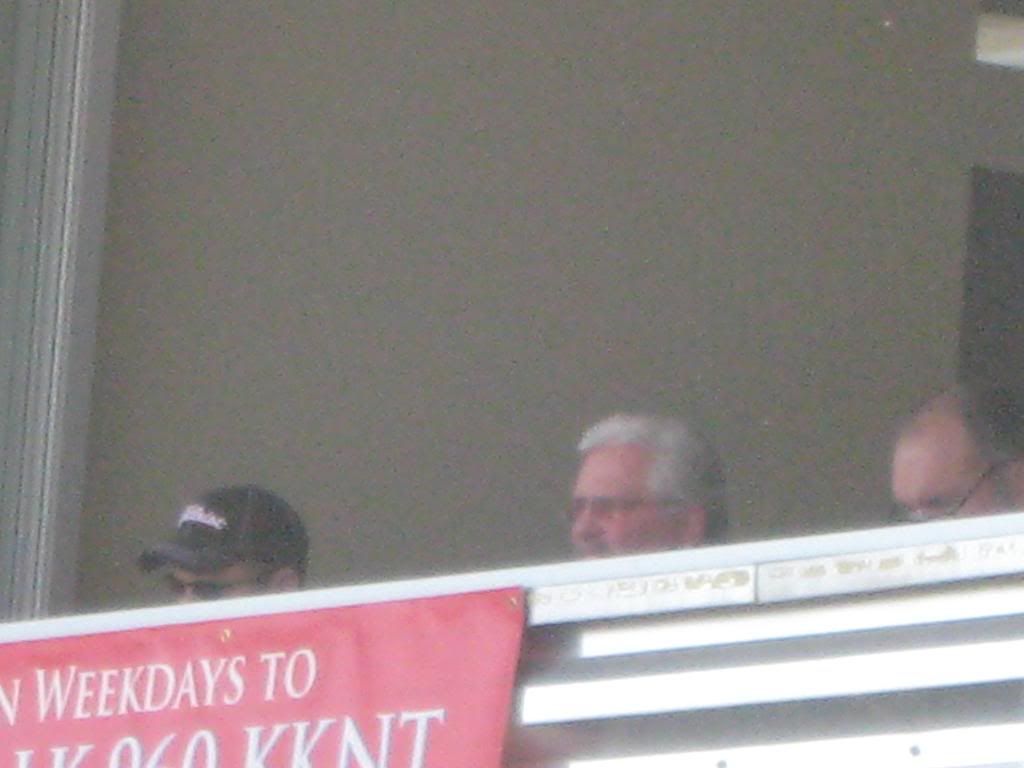 Buster Posey was the starting catcher with Ishikawa at 1st base, so I was pretty happy to see them at the game since there was no Timmy.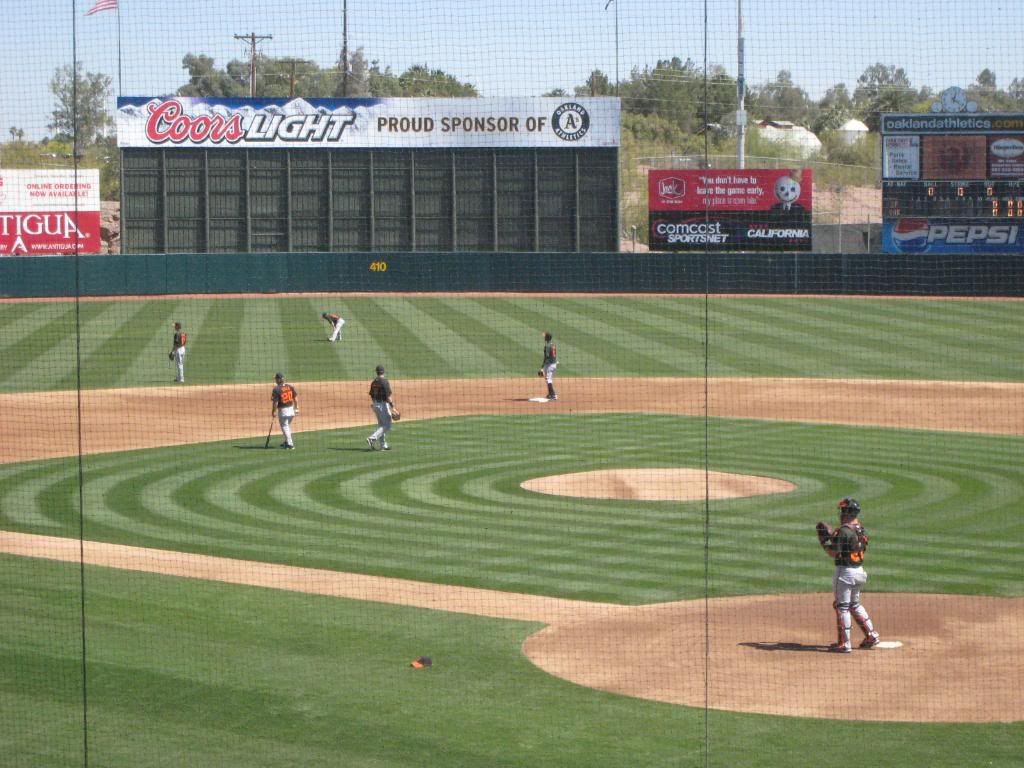 Holliday taking some swings in the cage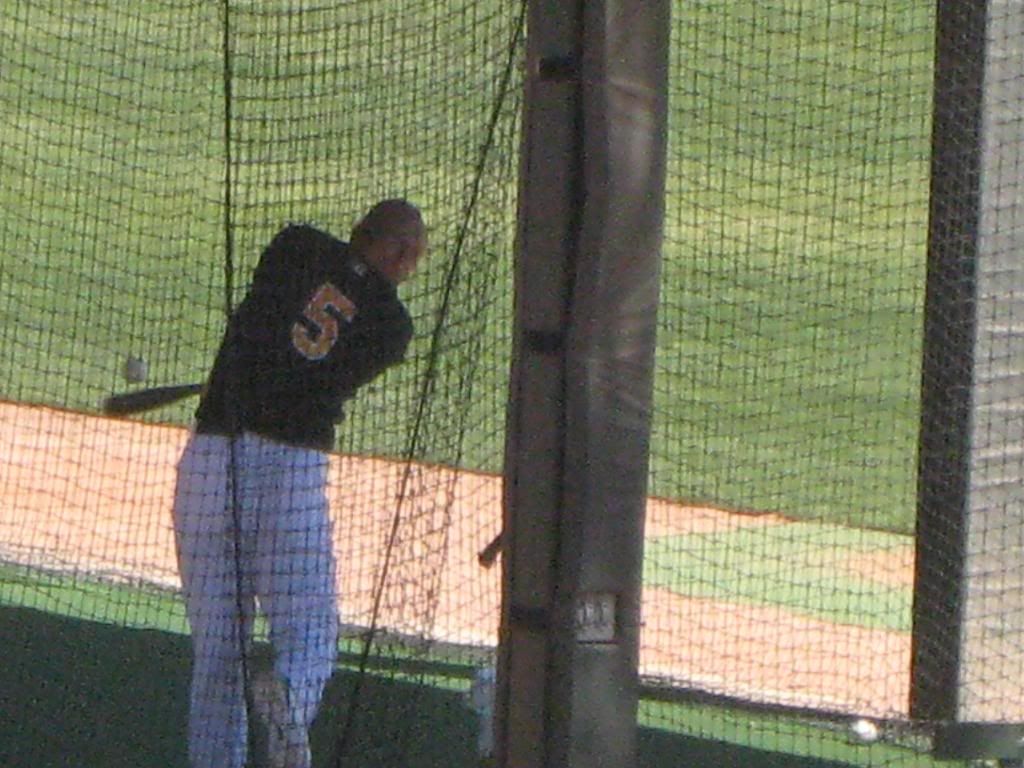 A's stretching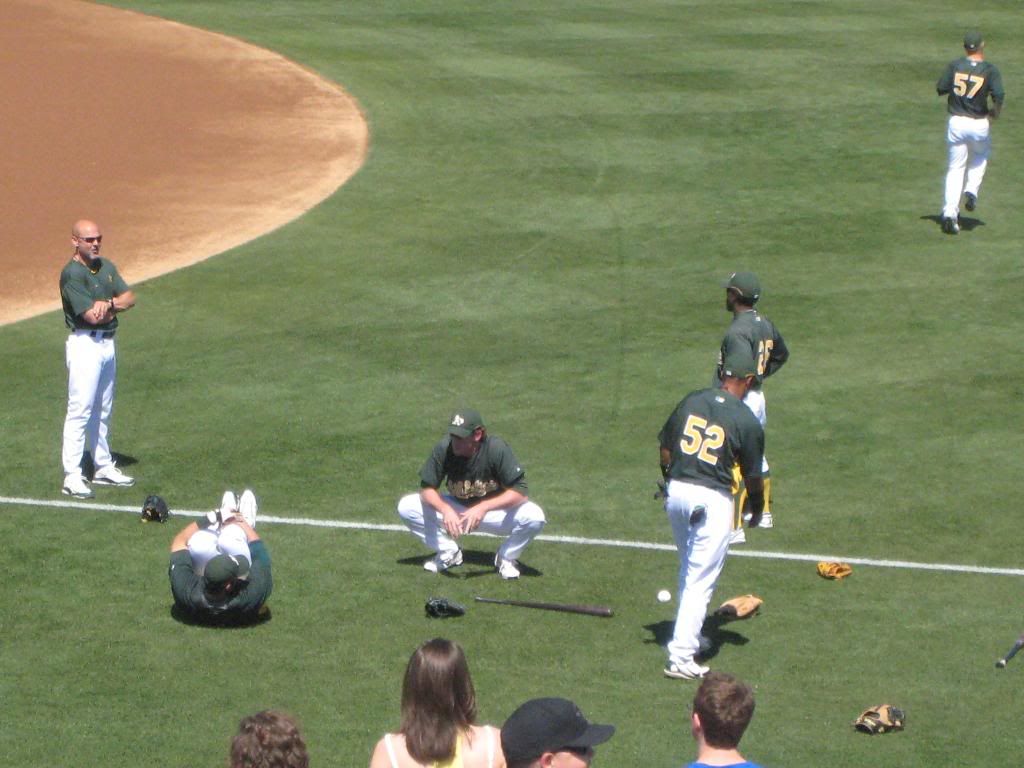 Bochy's giant head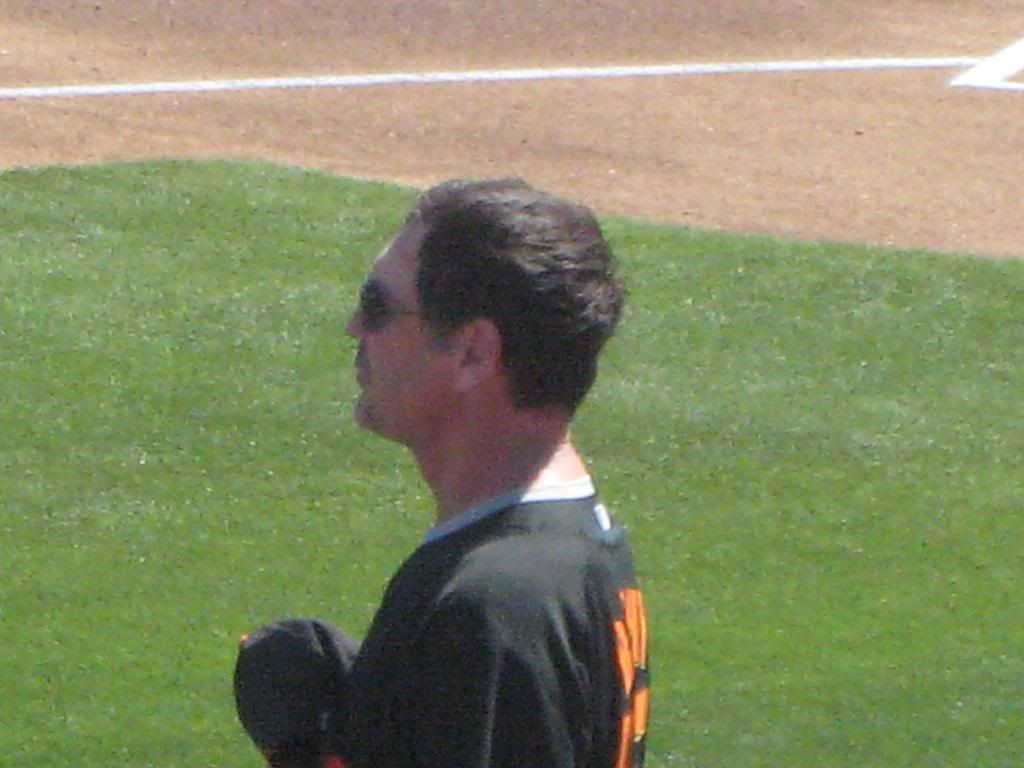 Cahill on the mound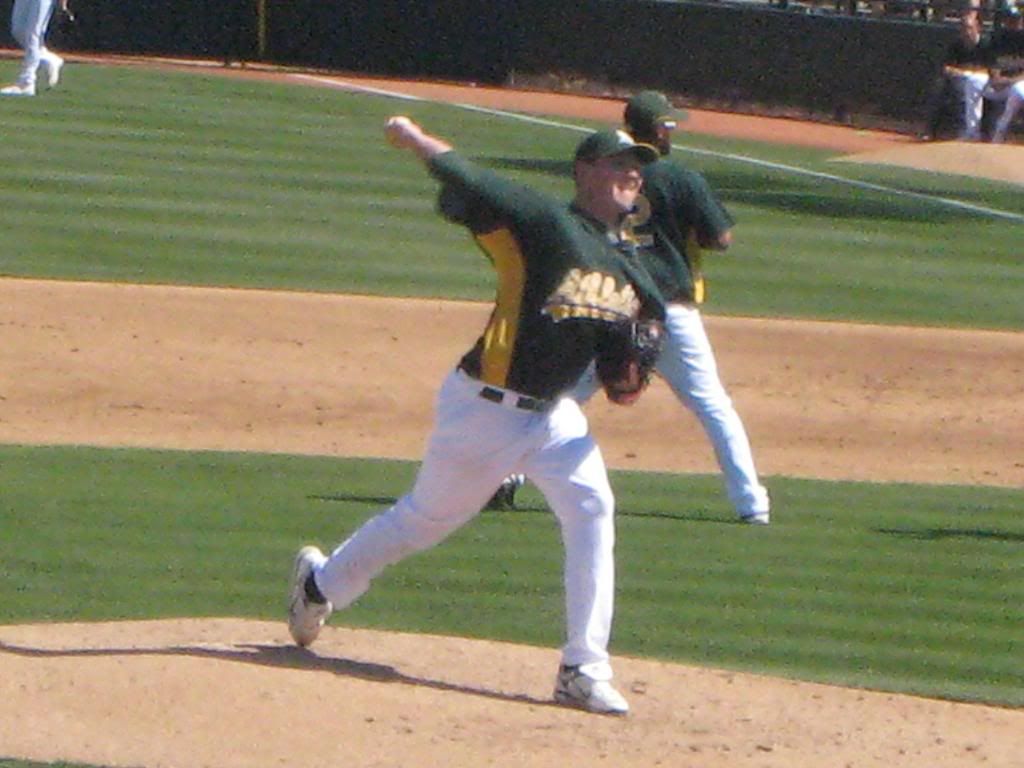 BUSTER!!!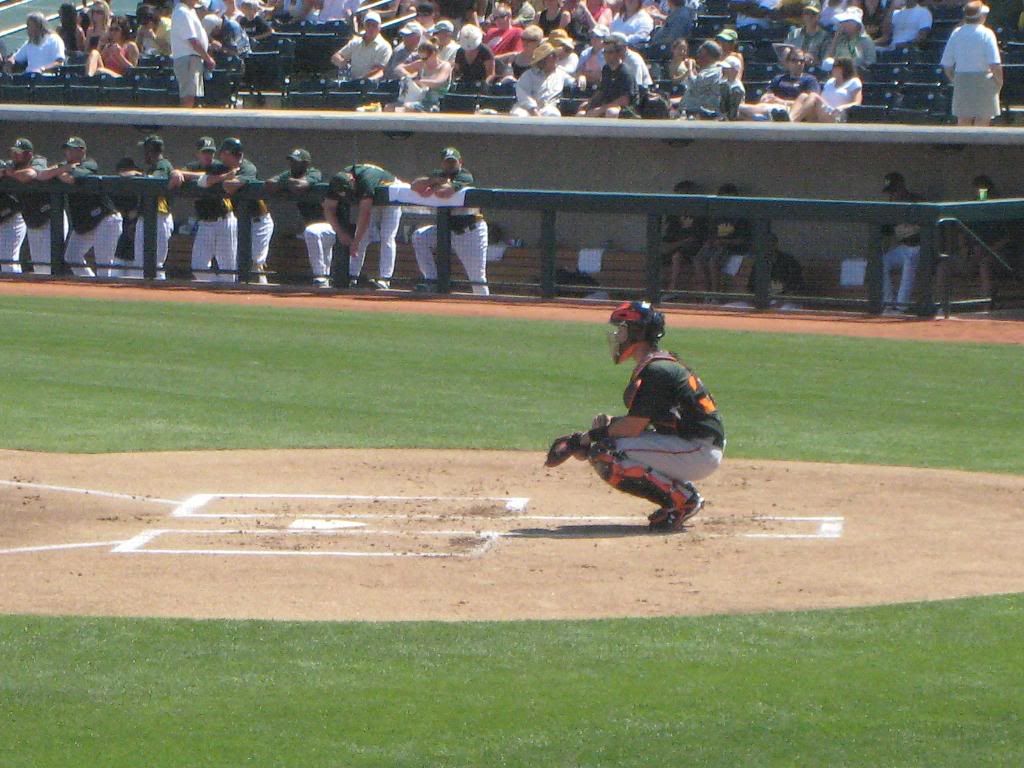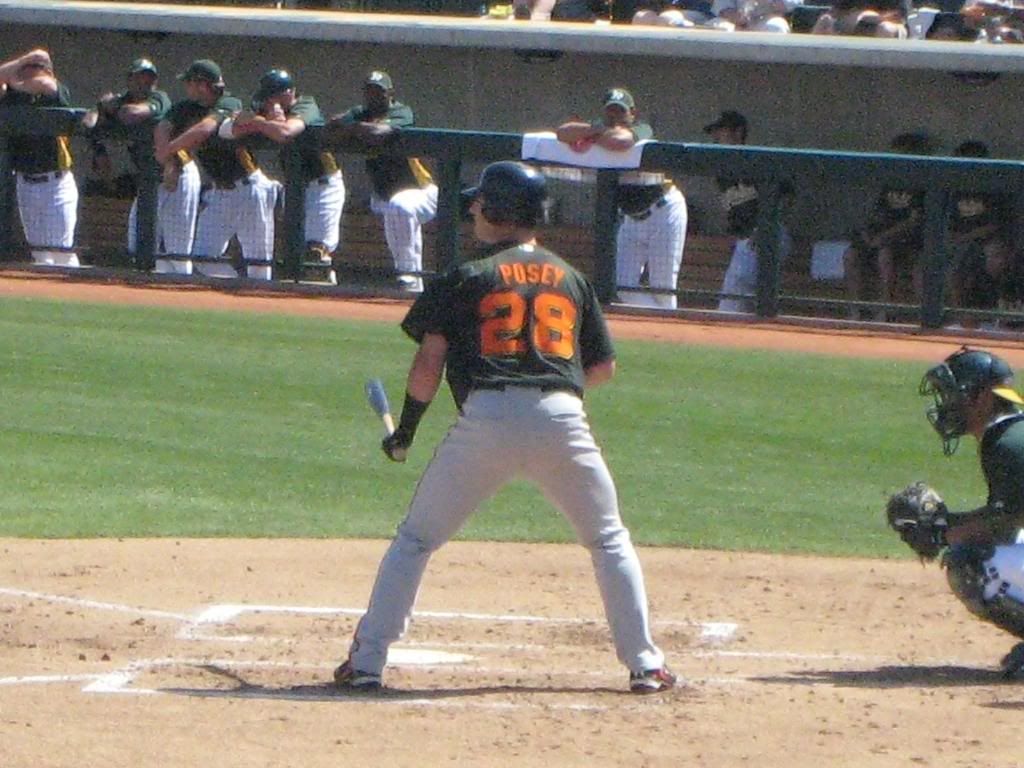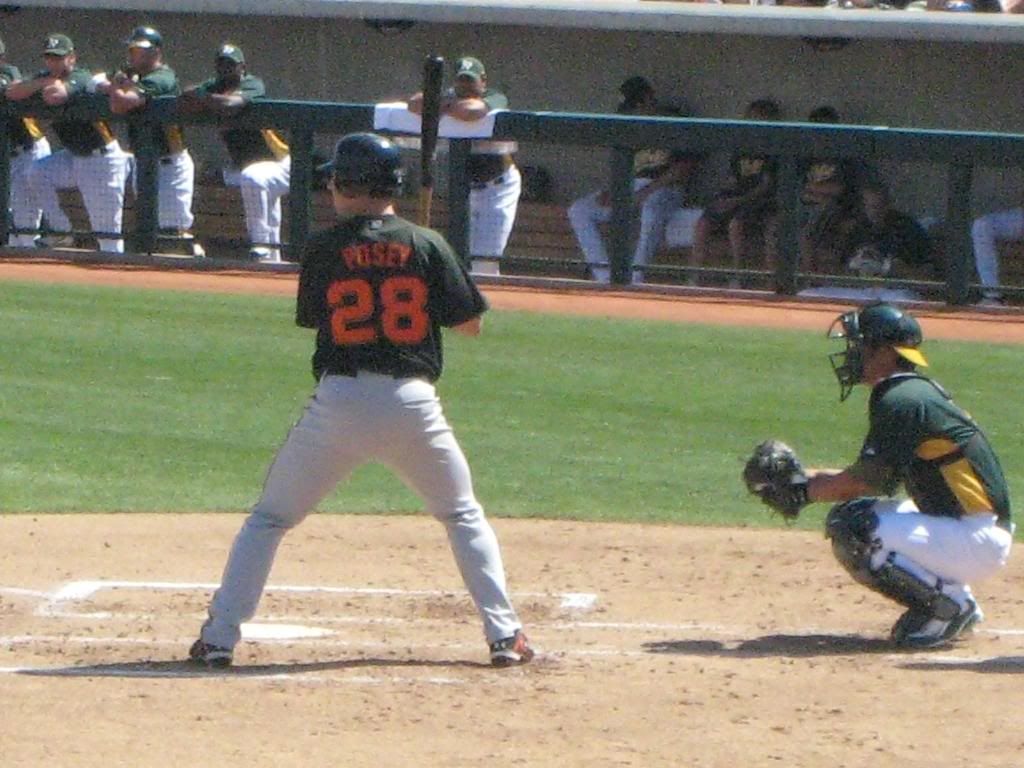 Ishikawa in the field and his 1st AB <3 (he singled and got stranded on 3rd)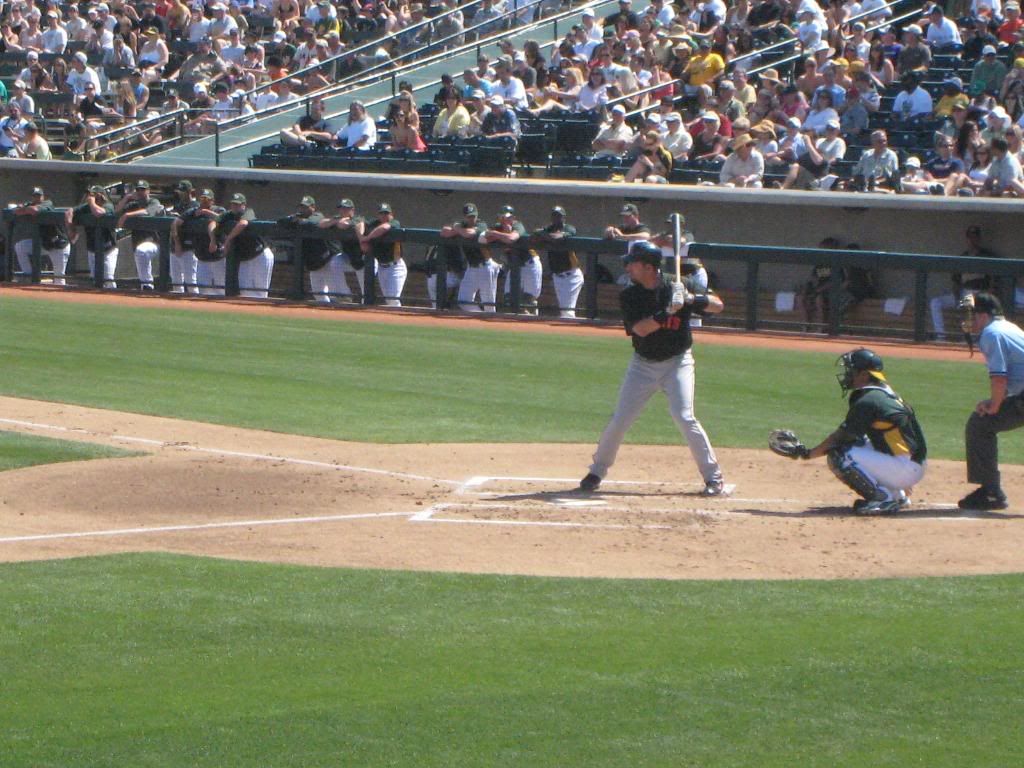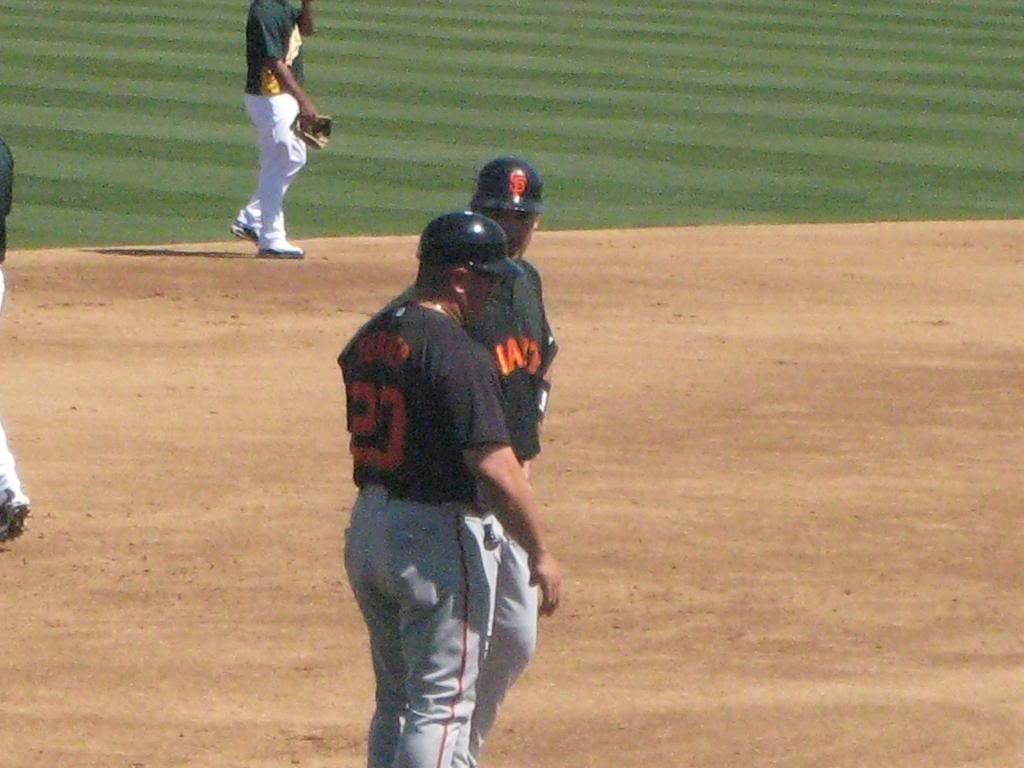 Velez Ks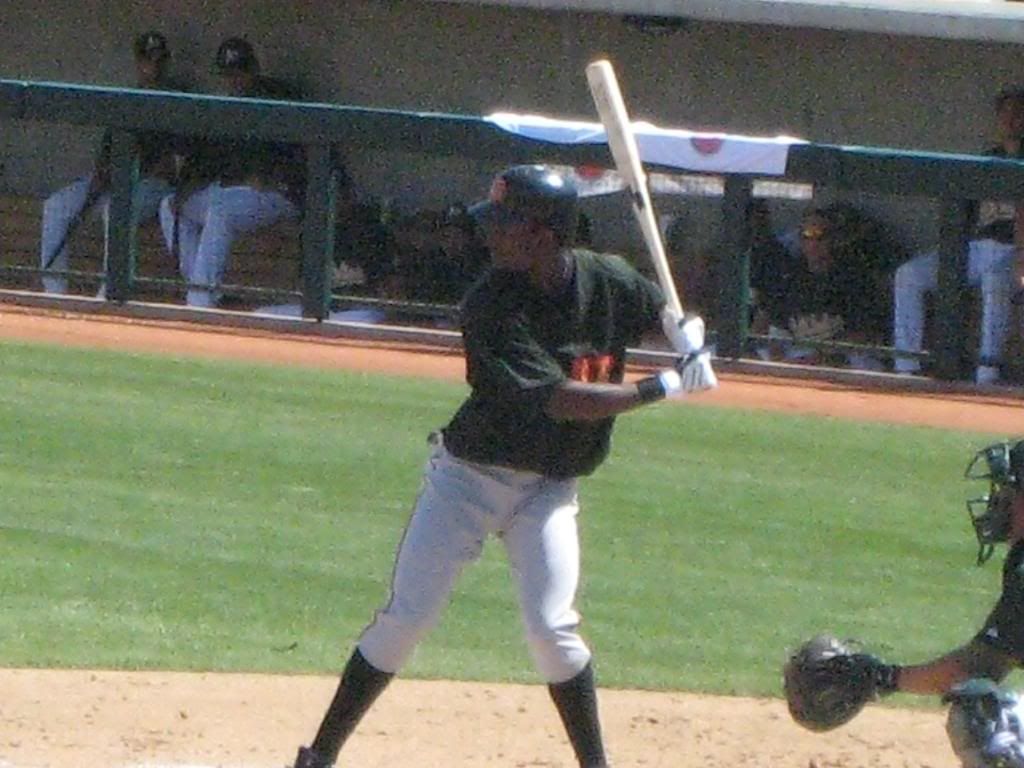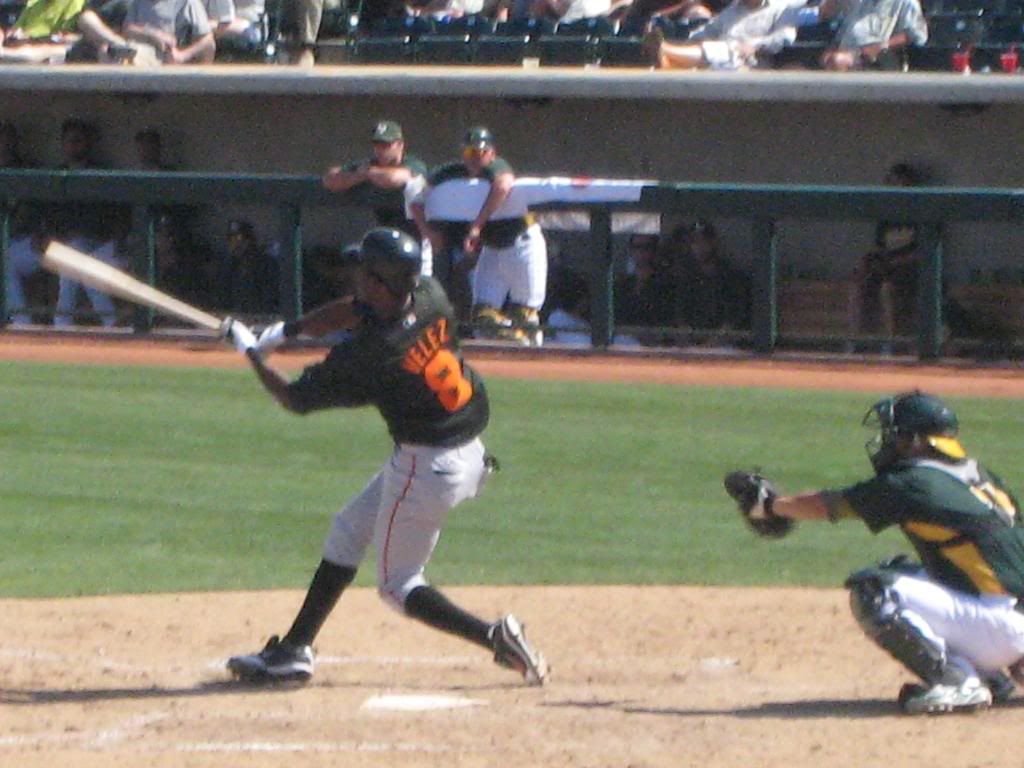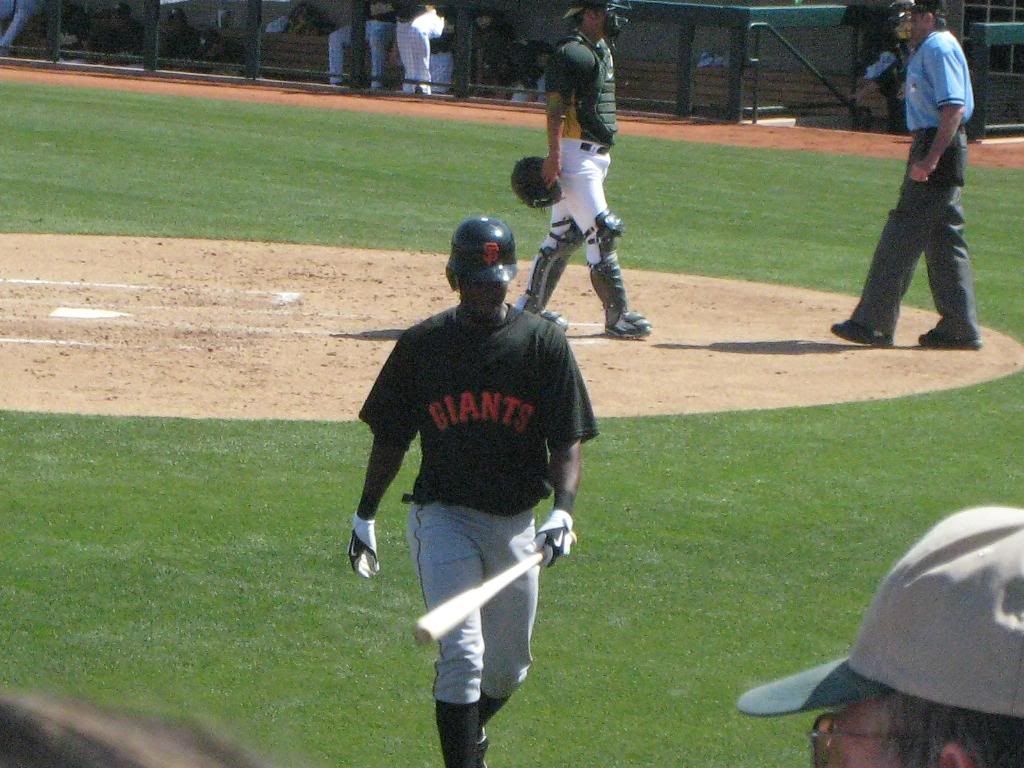 Giambi back in an A's uniform (for aussie)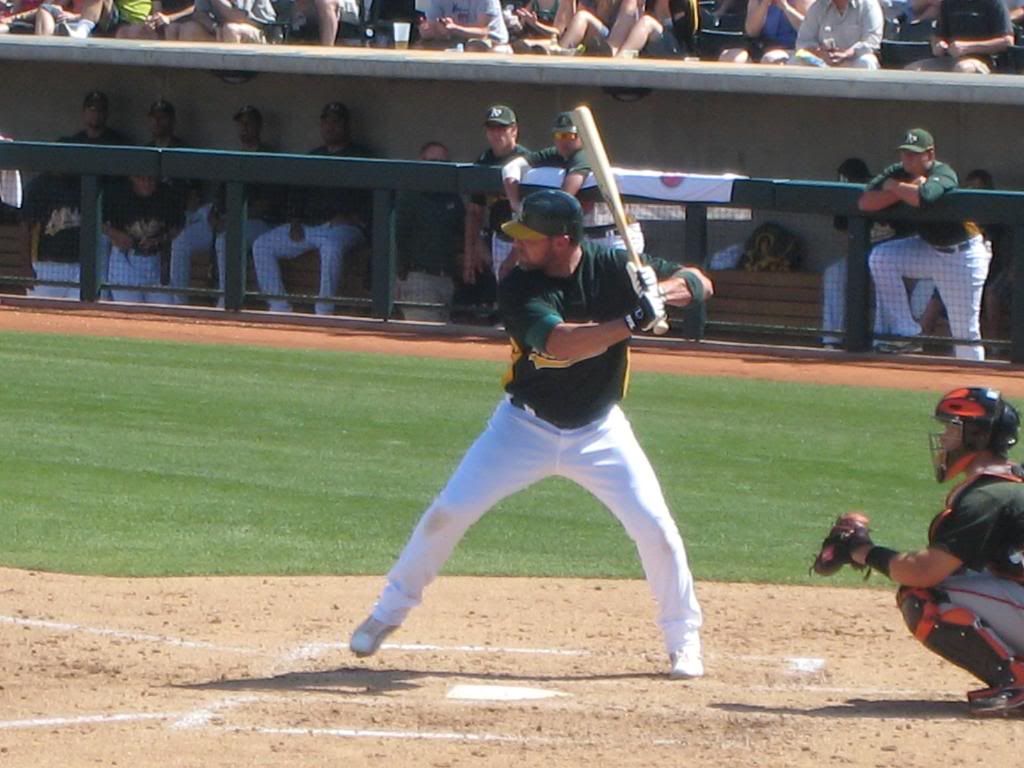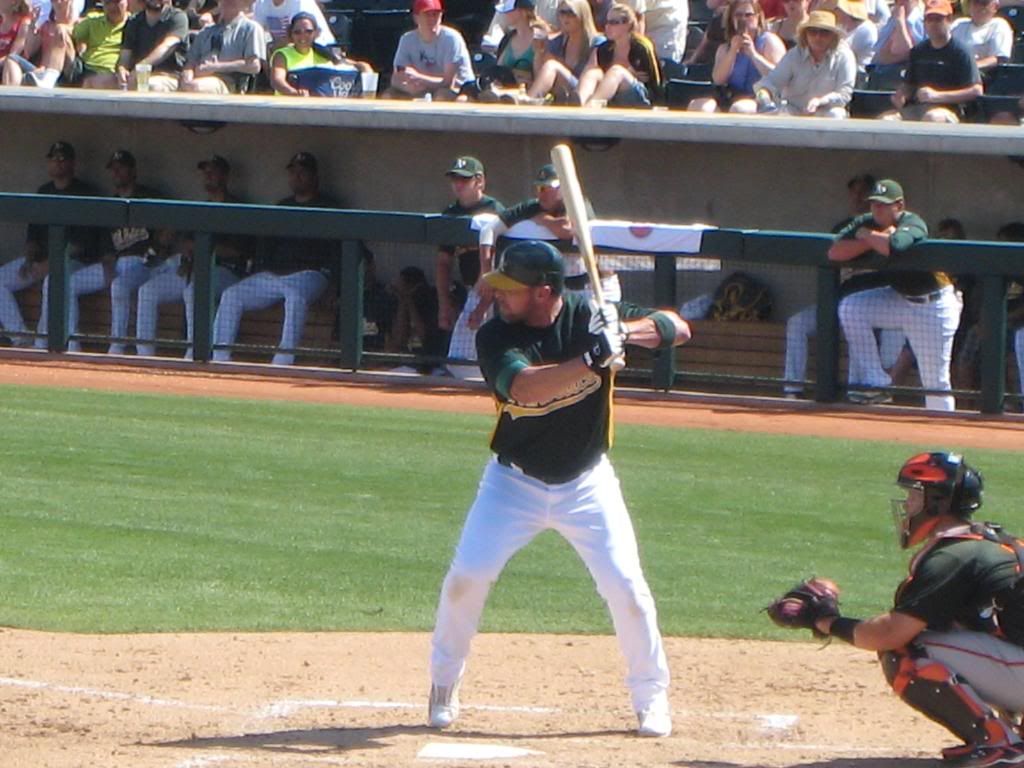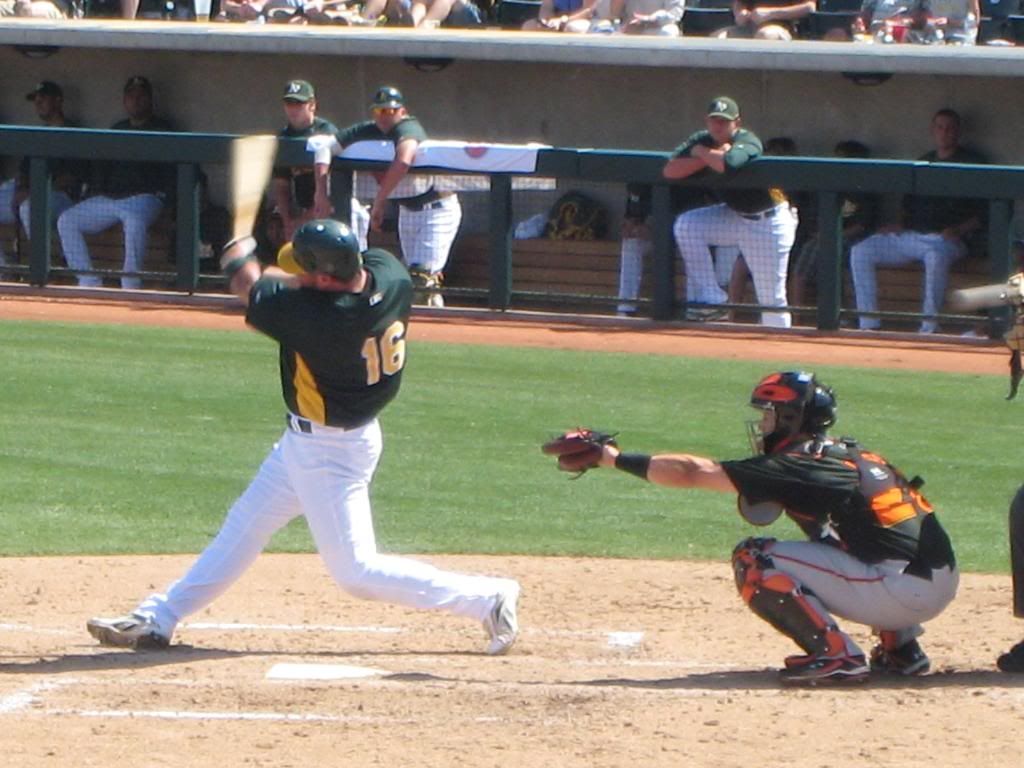 The other new Athletic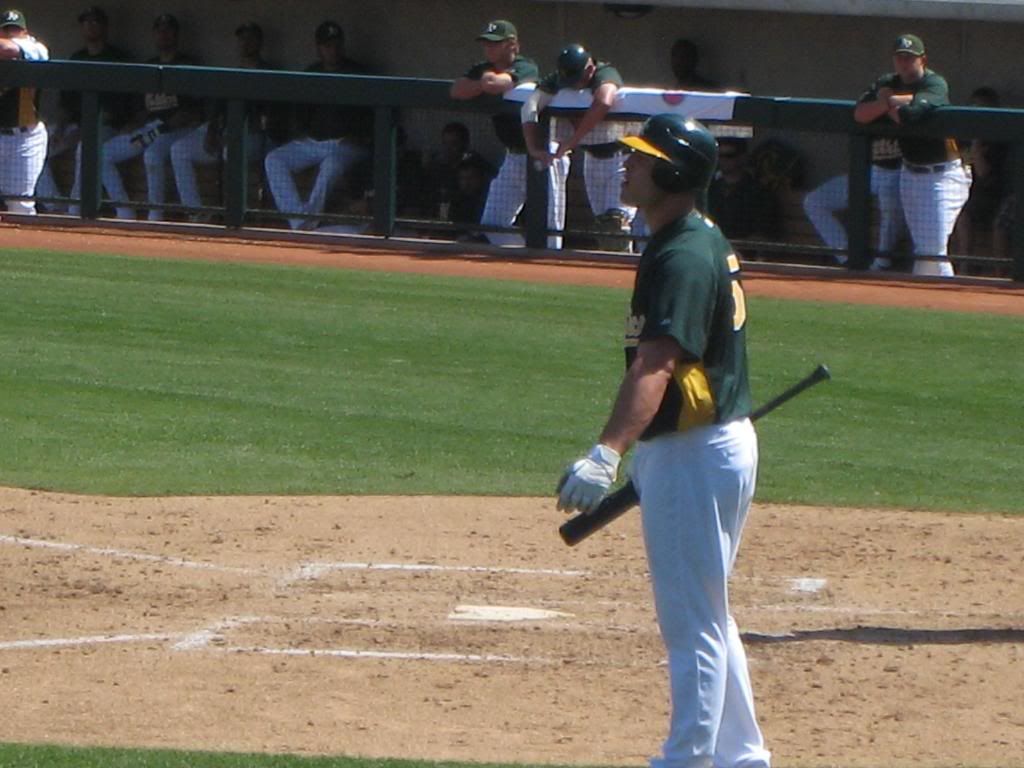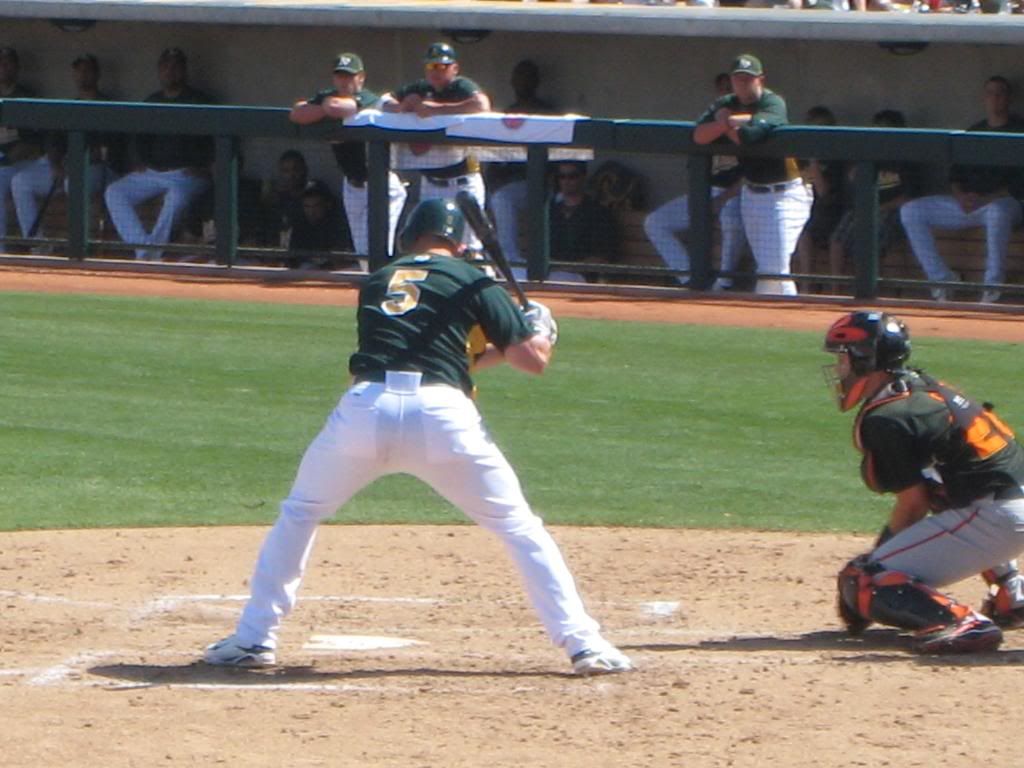 so my the friend i went with got his name chosen for a chance to win $100. Basically he had to choose an outfielder to catch a fly ball in the top of the 4th inning, if the outfielder he chose caught an out, he would win $100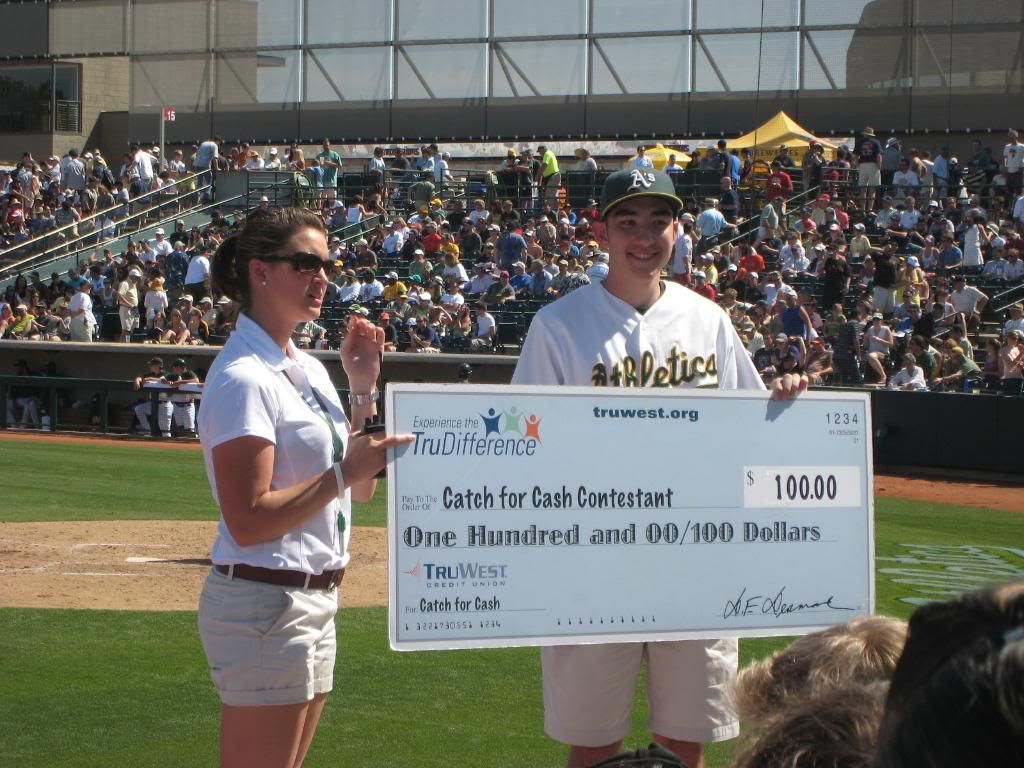 my friend chose right field and the first batter up was nate schierholtz who hit a line drive to right which fell in front of the RFer for a single. Next up came Rich Aurilia who on my call promptly grounded into a double play. This brought up the lefty Ishikawa, my friend's best hope at the $100. Travis proceeds to hit a long, high fly ball to right field which just continues to carry and carry about 3 feet over the leaping RFer at the wall for a HR. So not only did Ishikawa go deep but my friend barely missed winning $100. It was awesome.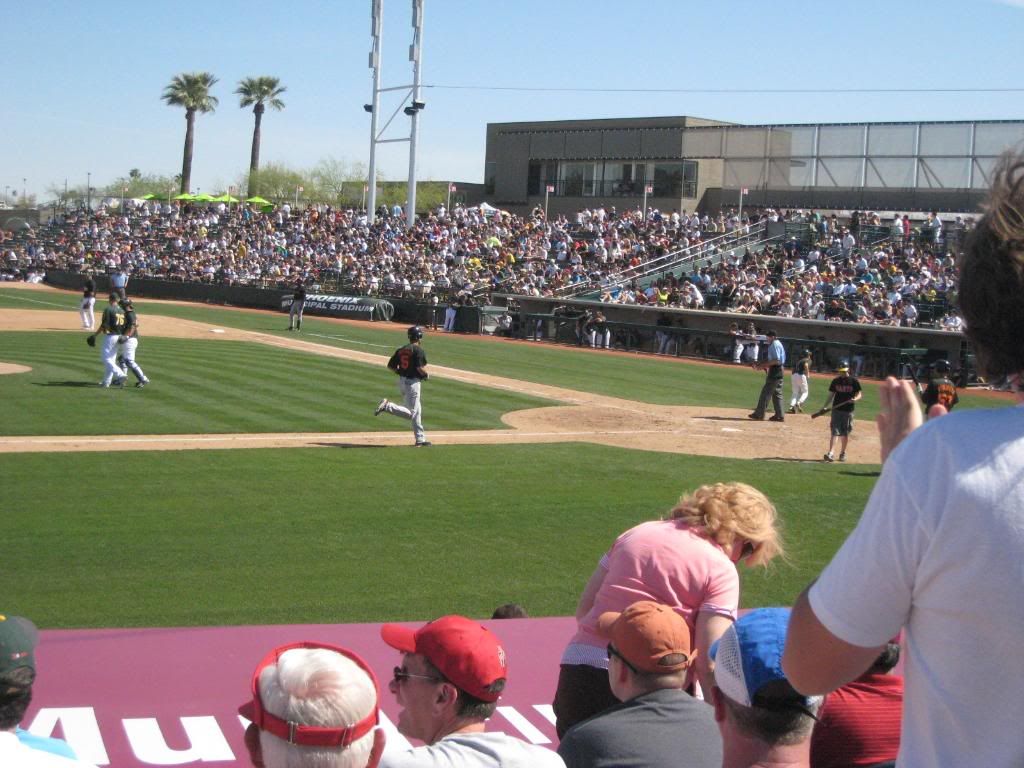 The last batter of the inning struck out or grounded out or something and no $100 for my bud. He was not a happy camper.
Ishikawa also went deep in his 3rd at bat. Let the bandwagon roll.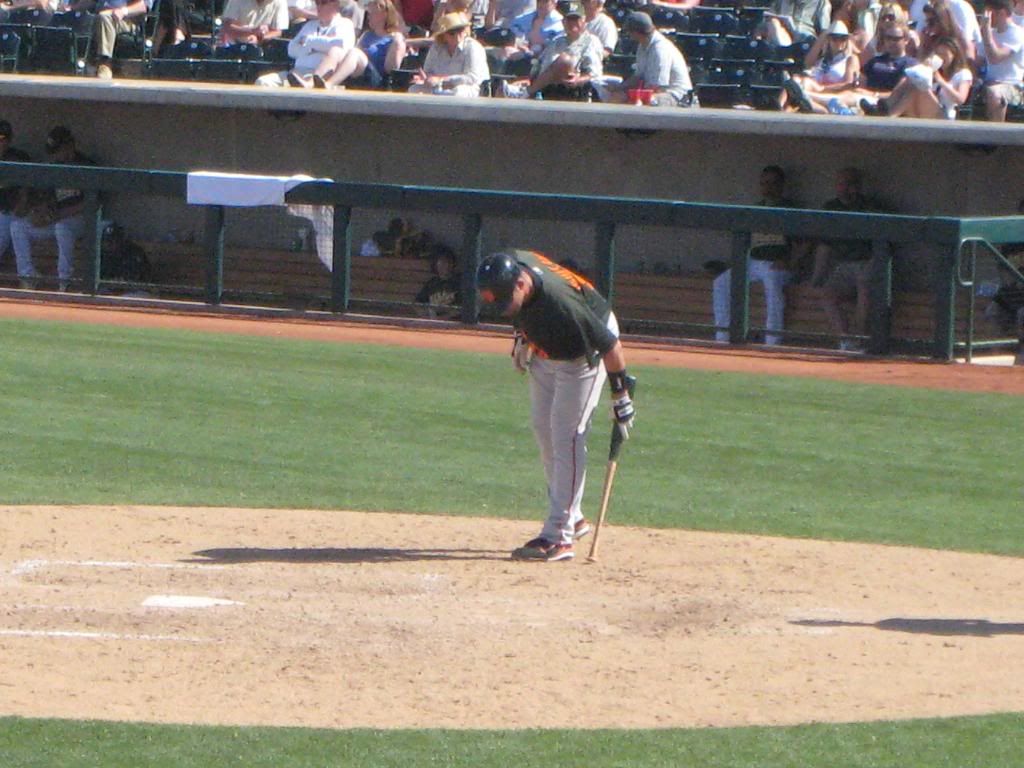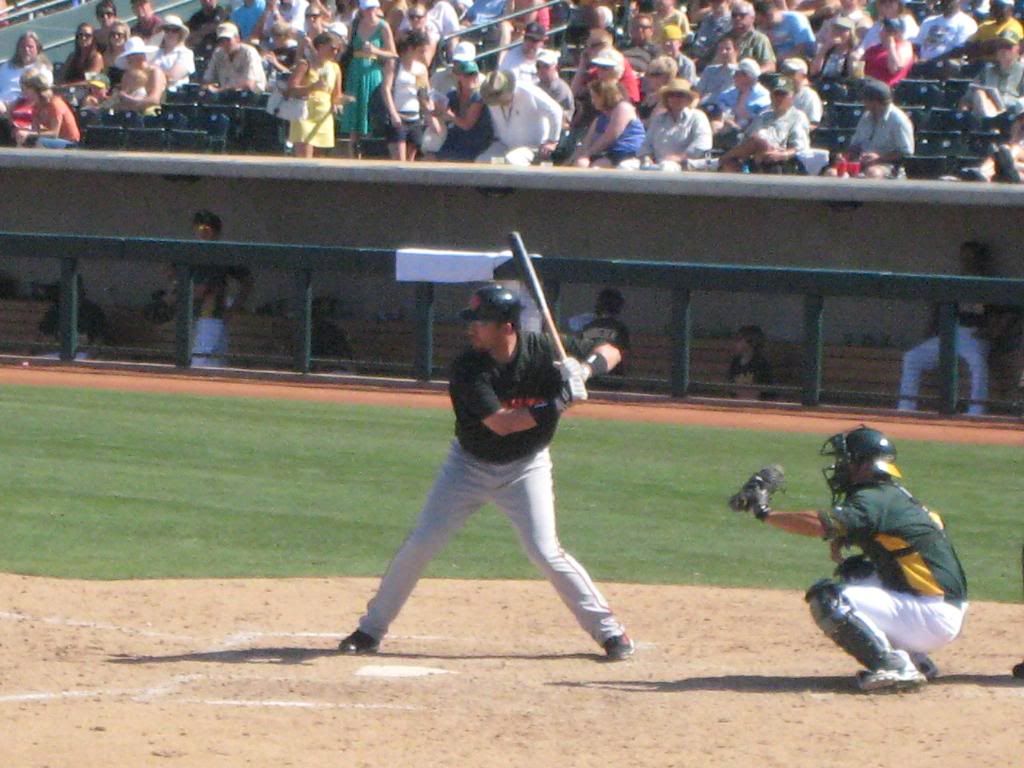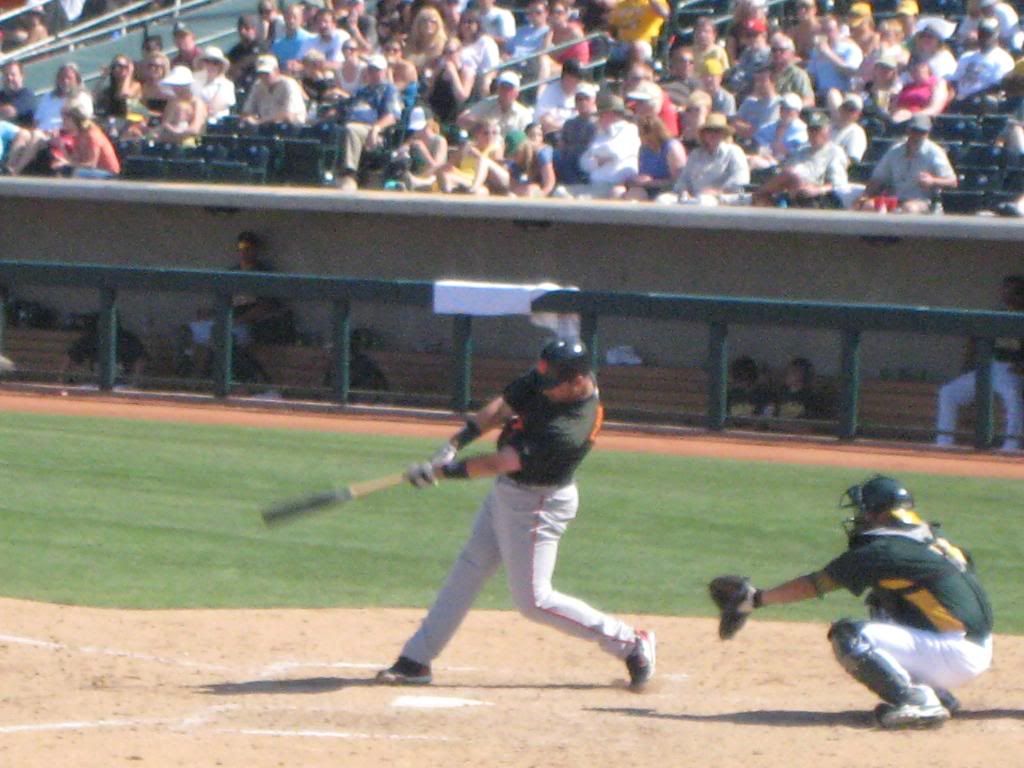 you can see the ball leaving the frame in the last picture on it's way over the left/center field wall.
Posey also went deep that game, hitting an absolute monster shot well over a ~35 ft wall 420 feet away in dead center. the ball was crushed and it was awesome.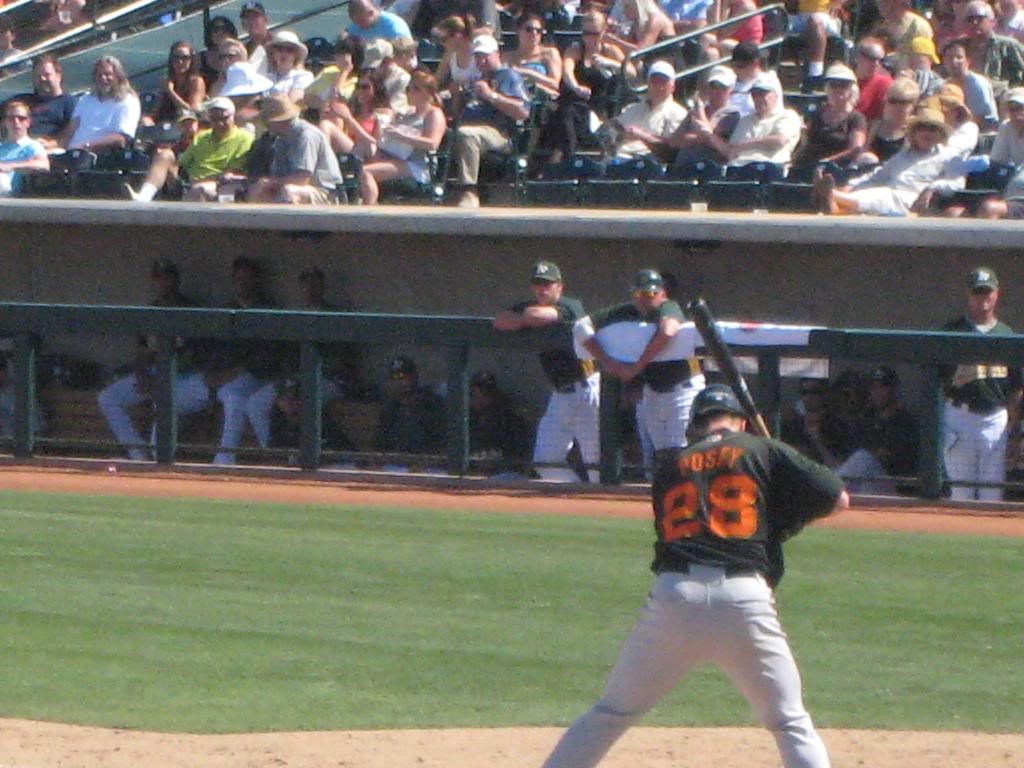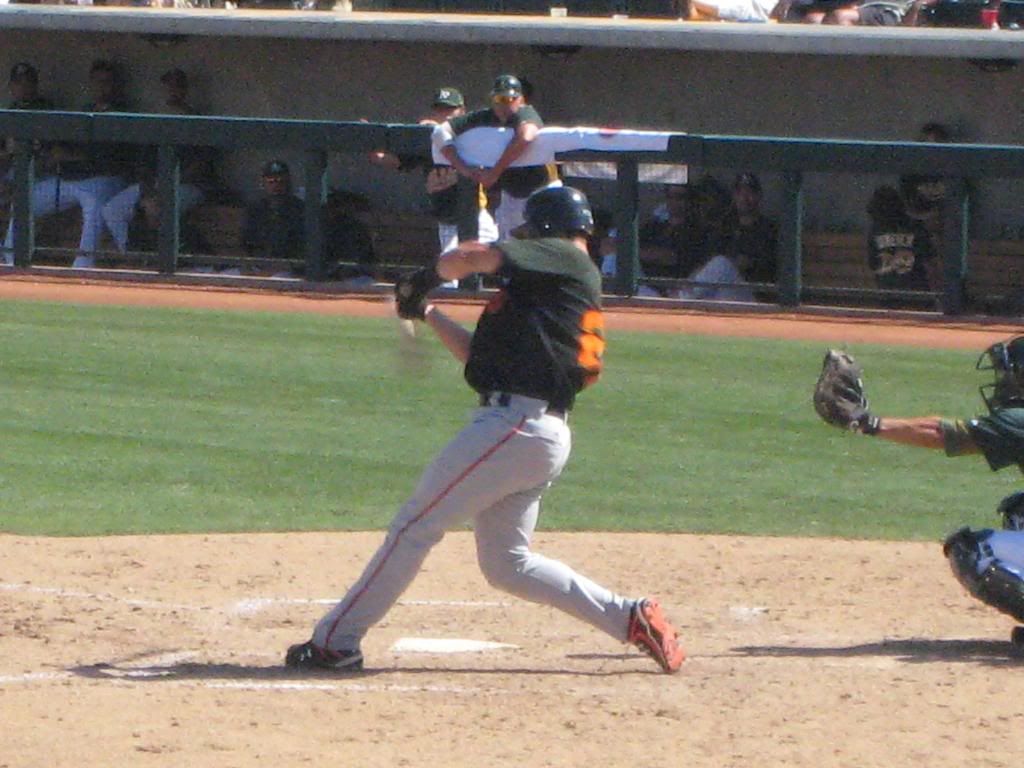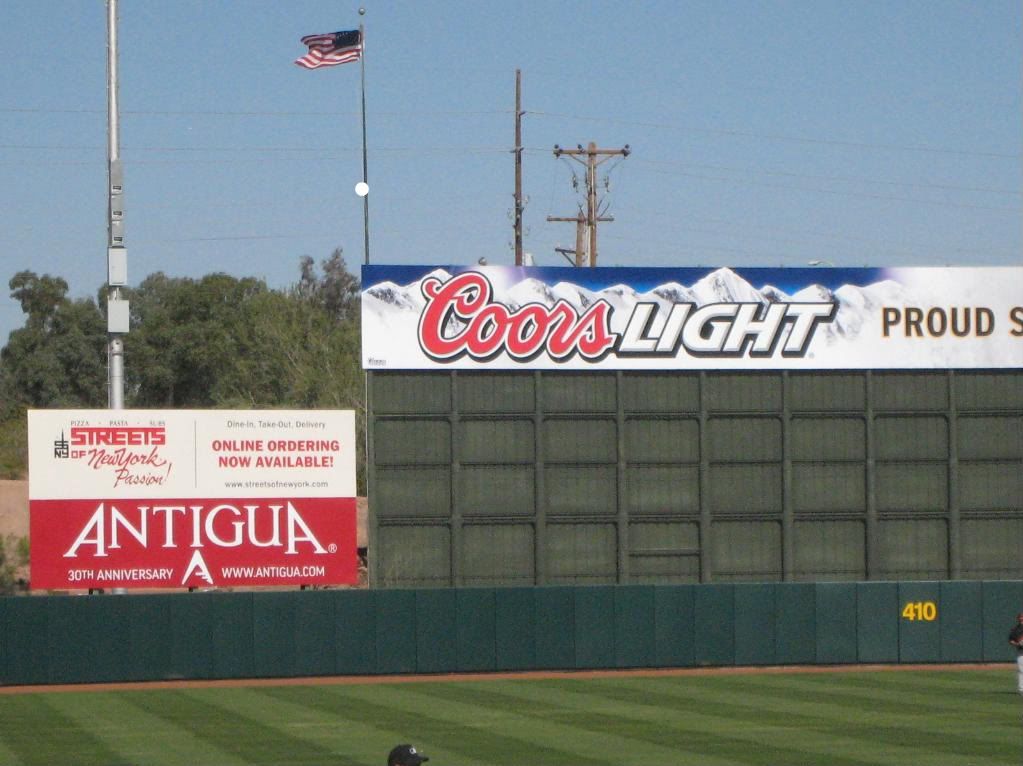 last picture is the fence in center field that the ball cleared. the white dot is about where i remembering it going over the fence, it finally disappeared from our site well behind the antigua sign. awesome.
The giant's also turned a triple play in the game off the bat of Bobby Crosby (lol). All in all an awesome game, Giants ended up winning like 8-4 or something like that.
Sunday we decided to check out the new facility shared by the White Sox and Dodgers. The place is huge with something like 16 fields and a small lake running through the middle of the complex.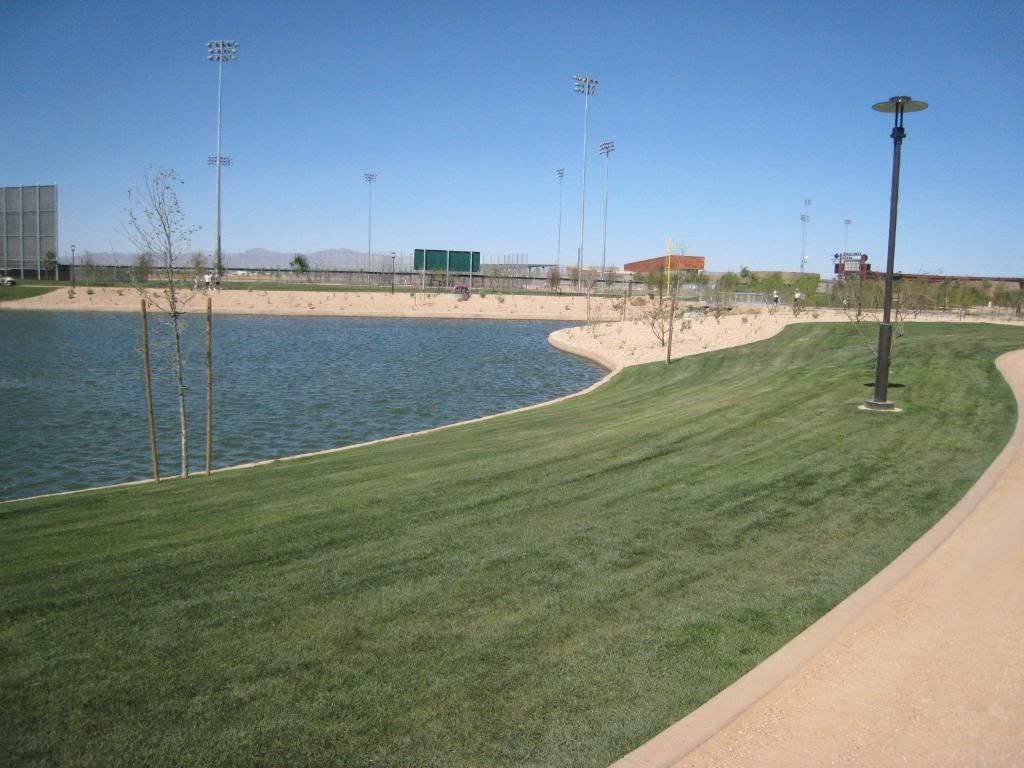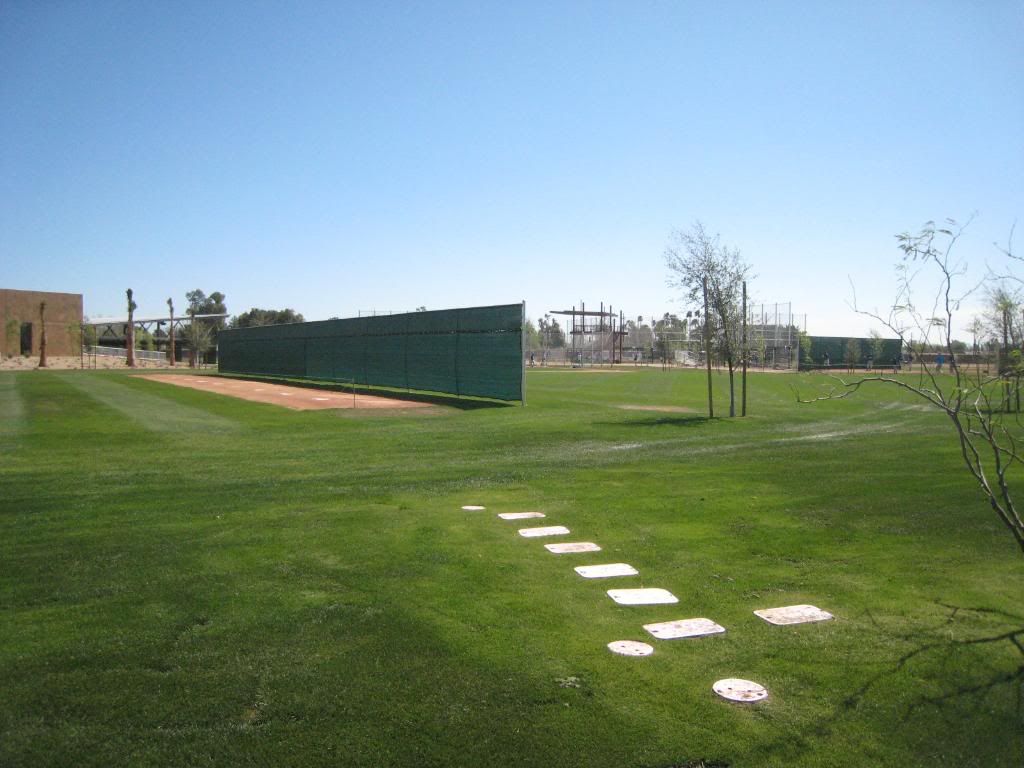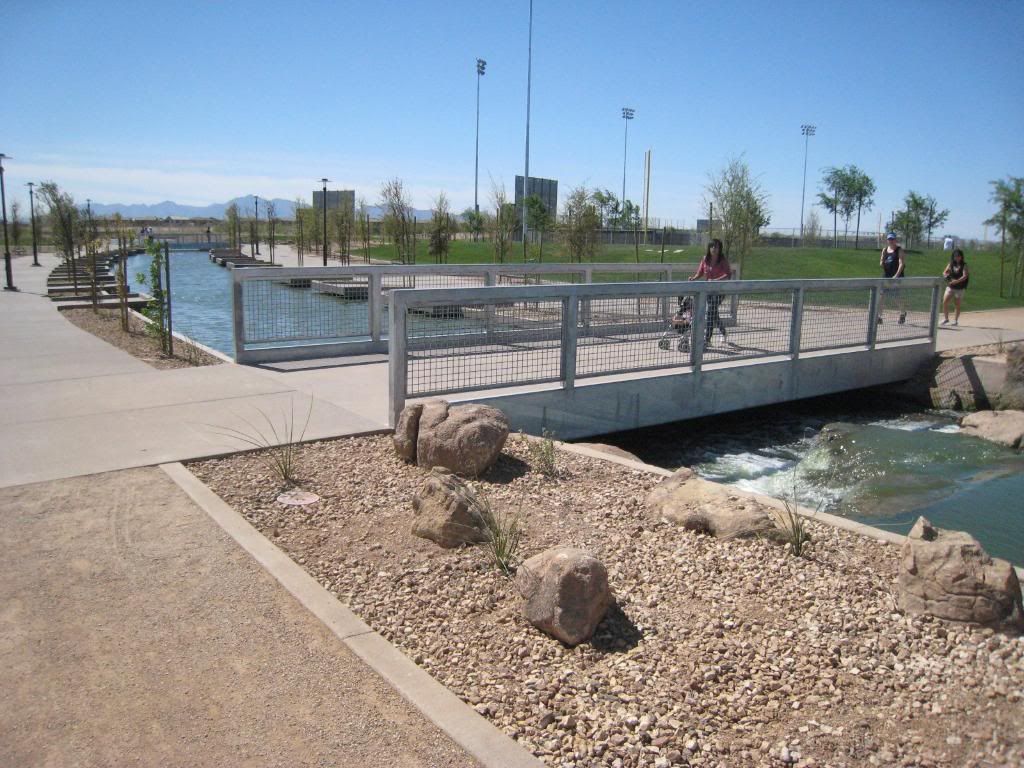 We got there quite early as the practice fields open to the public at 8 AM despite the gates to the game not opening until 11:30. We checked out some batting practice on the first field we came to and White Sox first round pick, Gordon Beckham happened to be taking some swings (he's #80).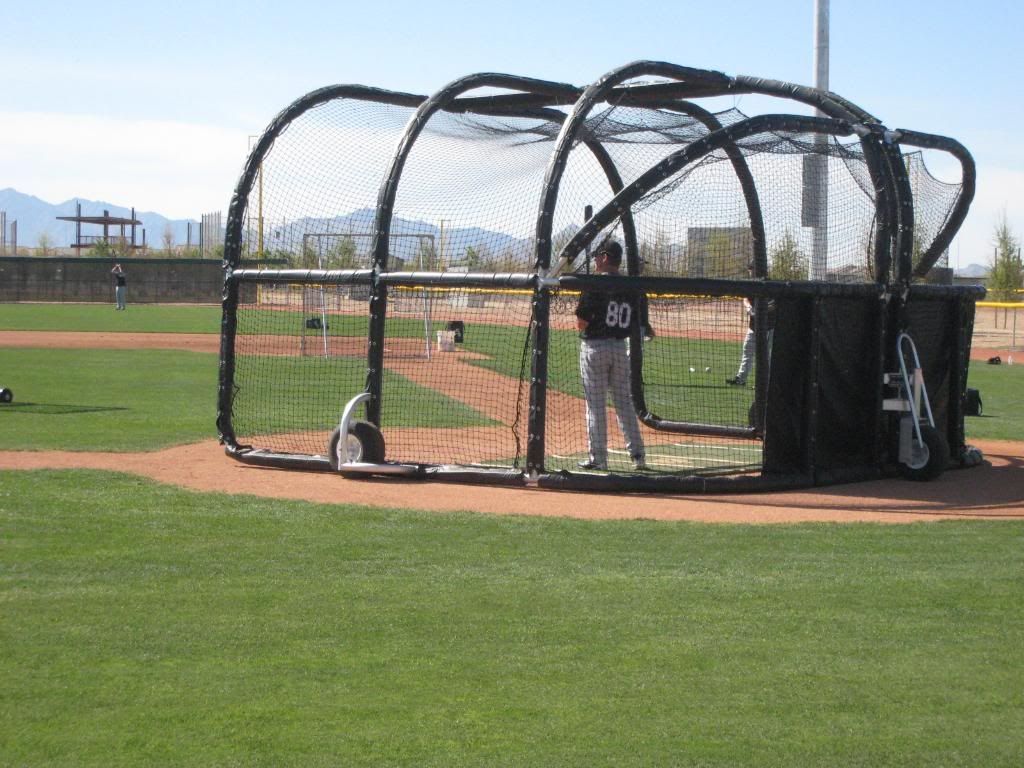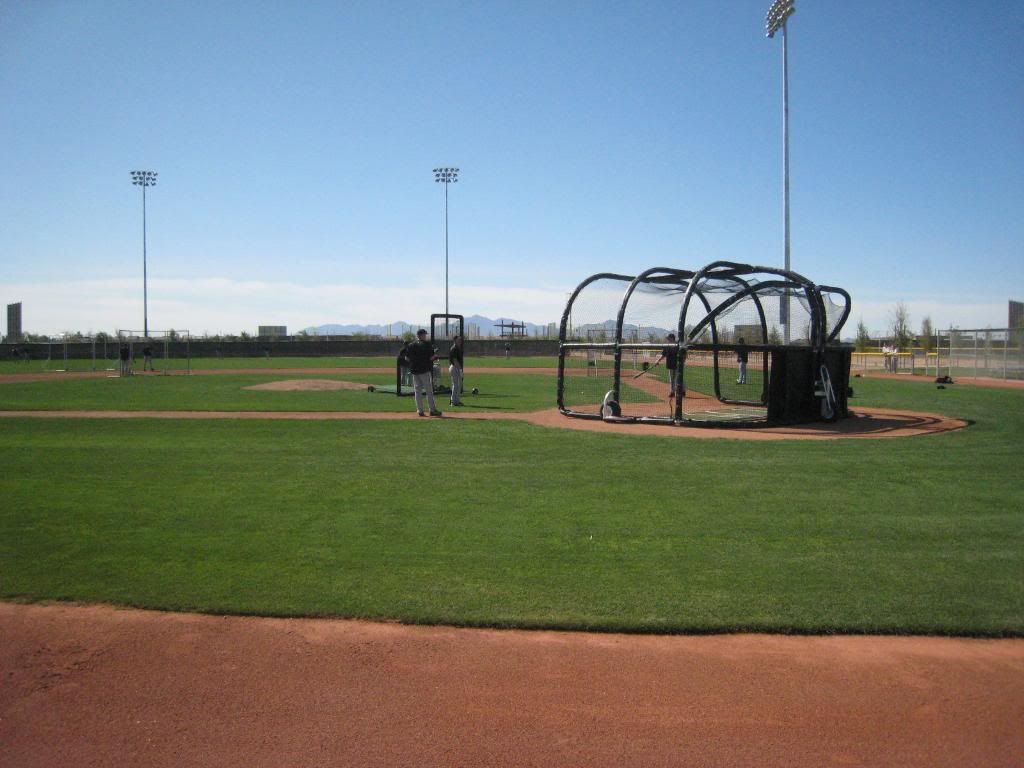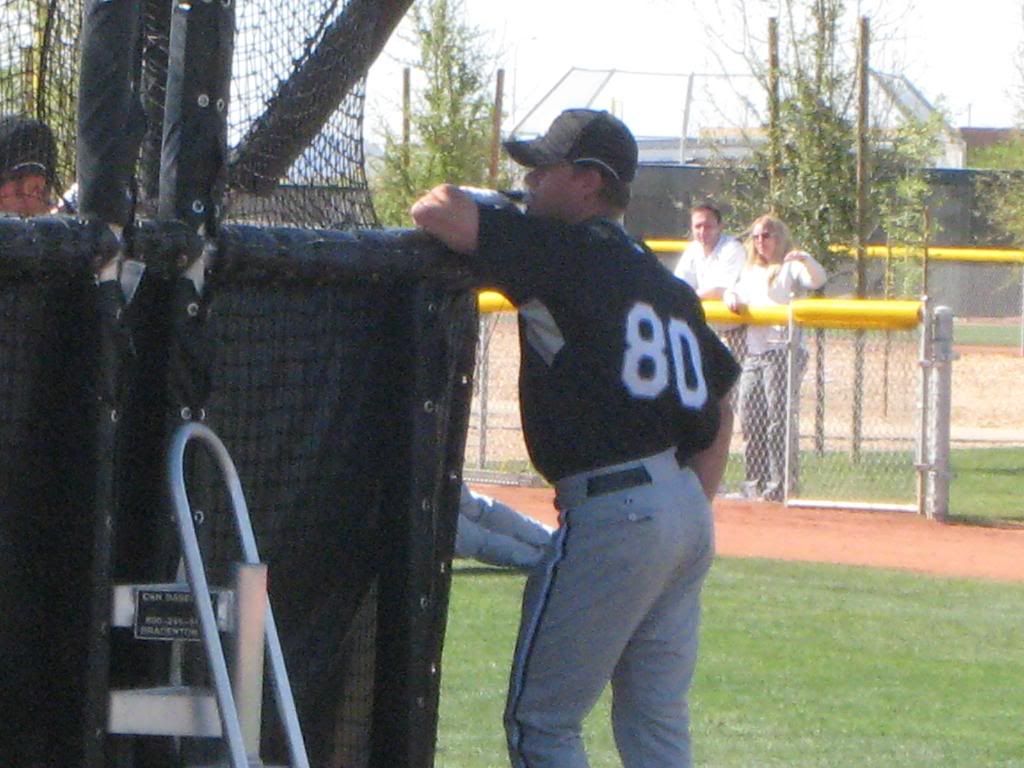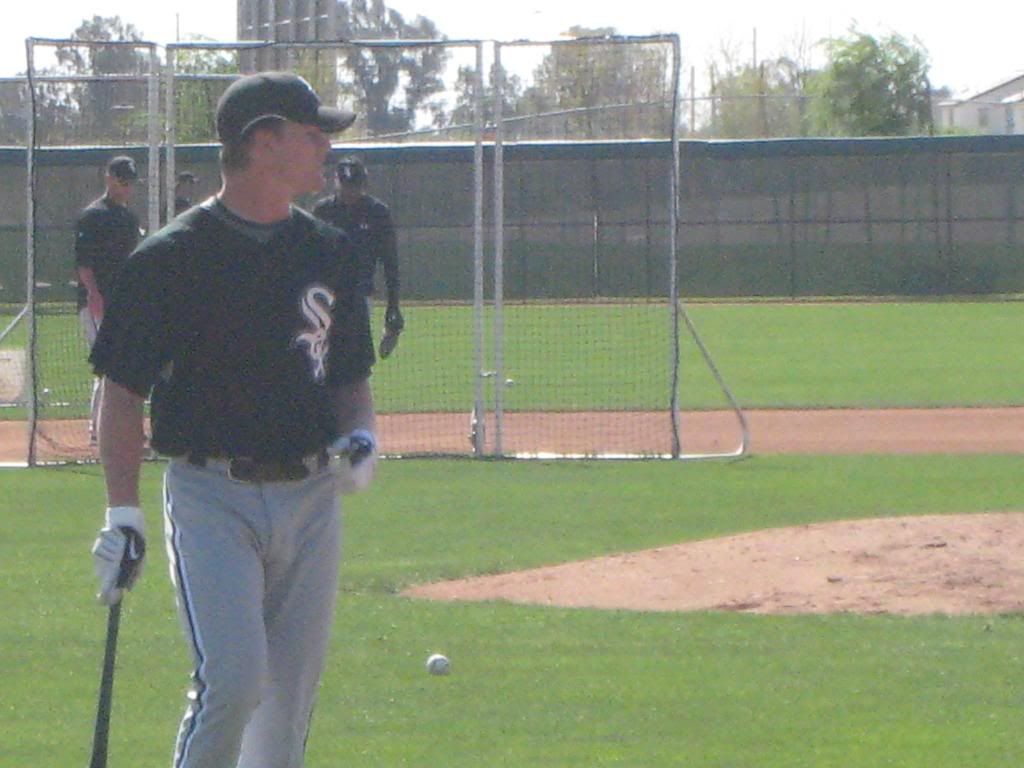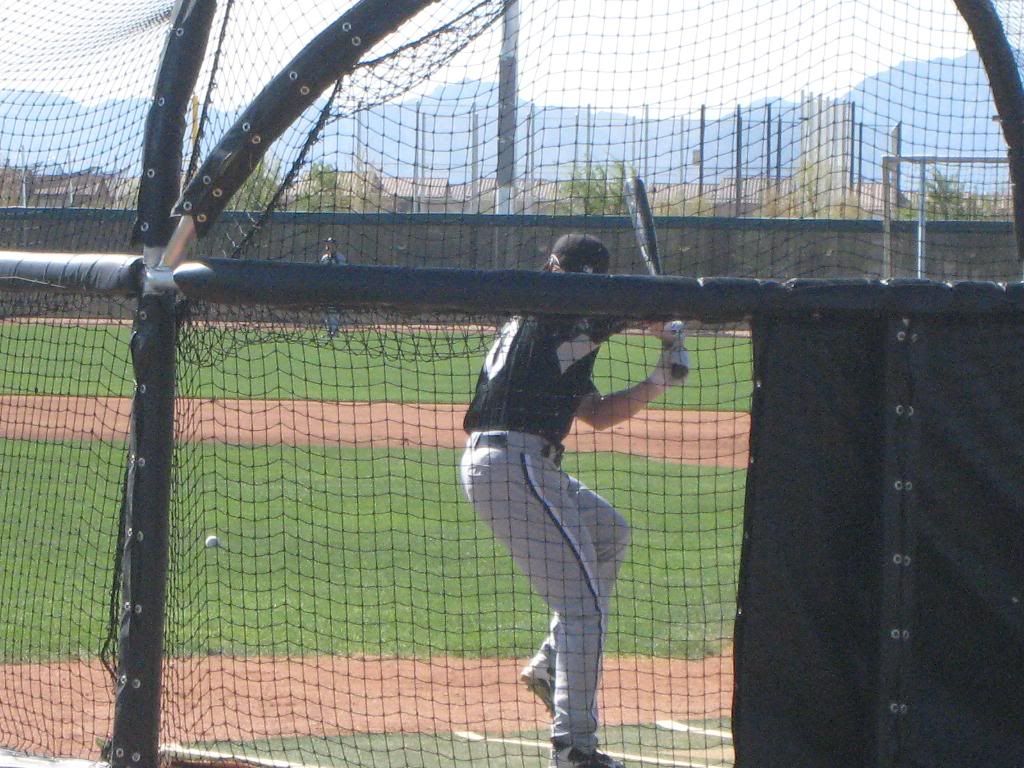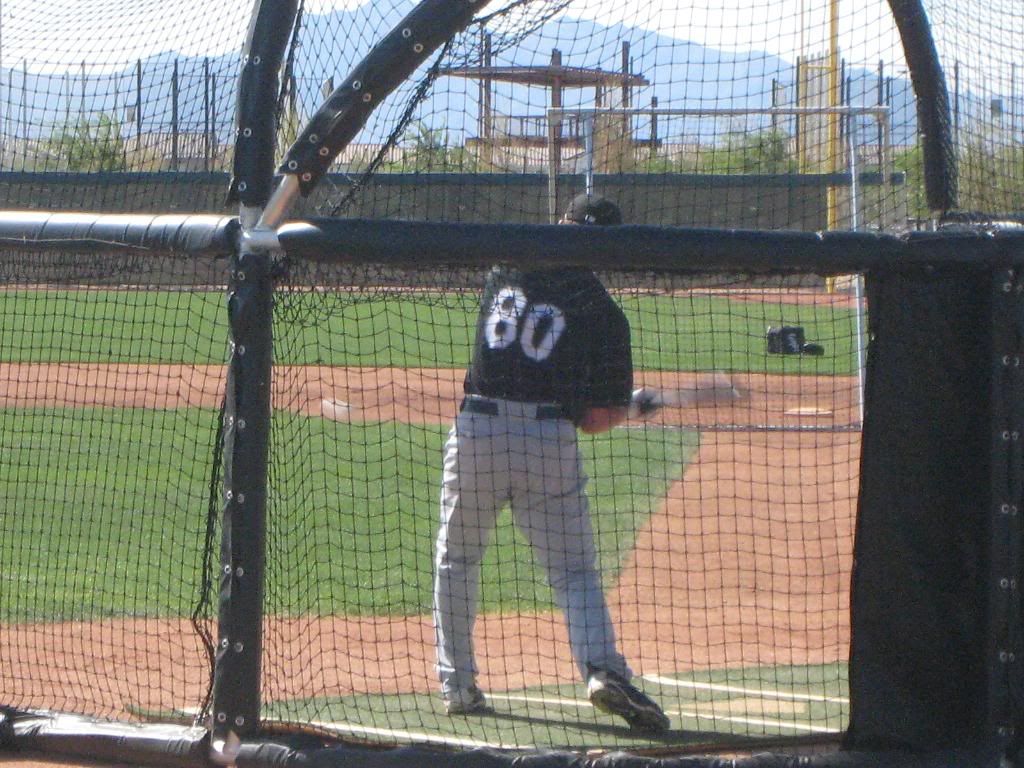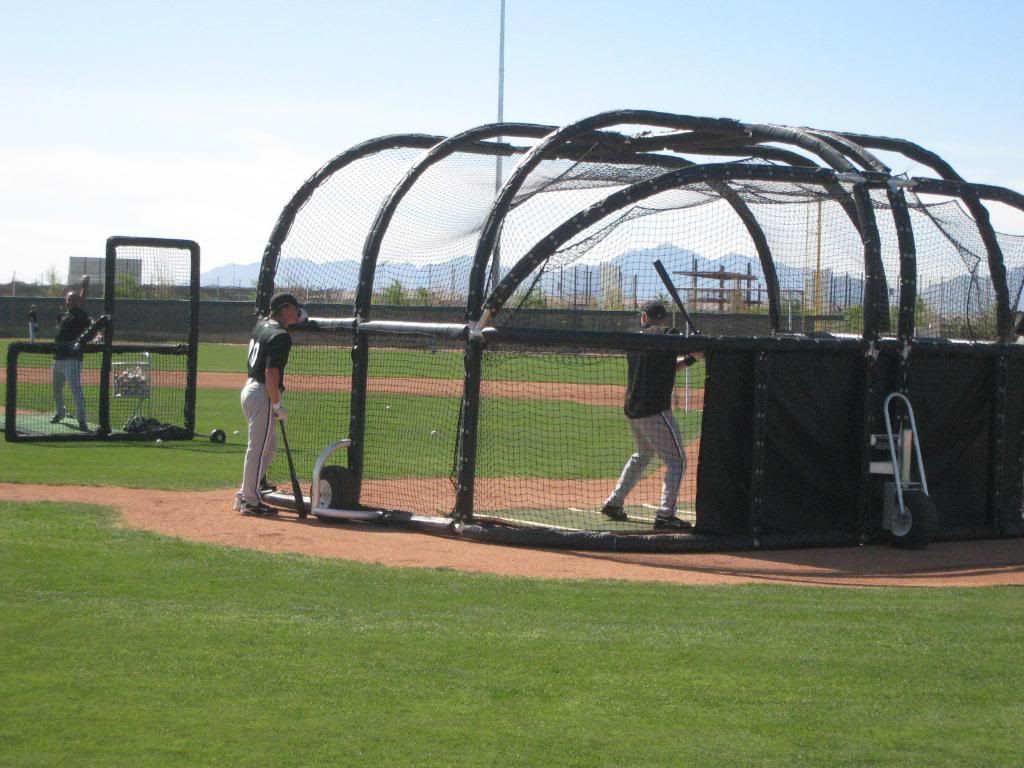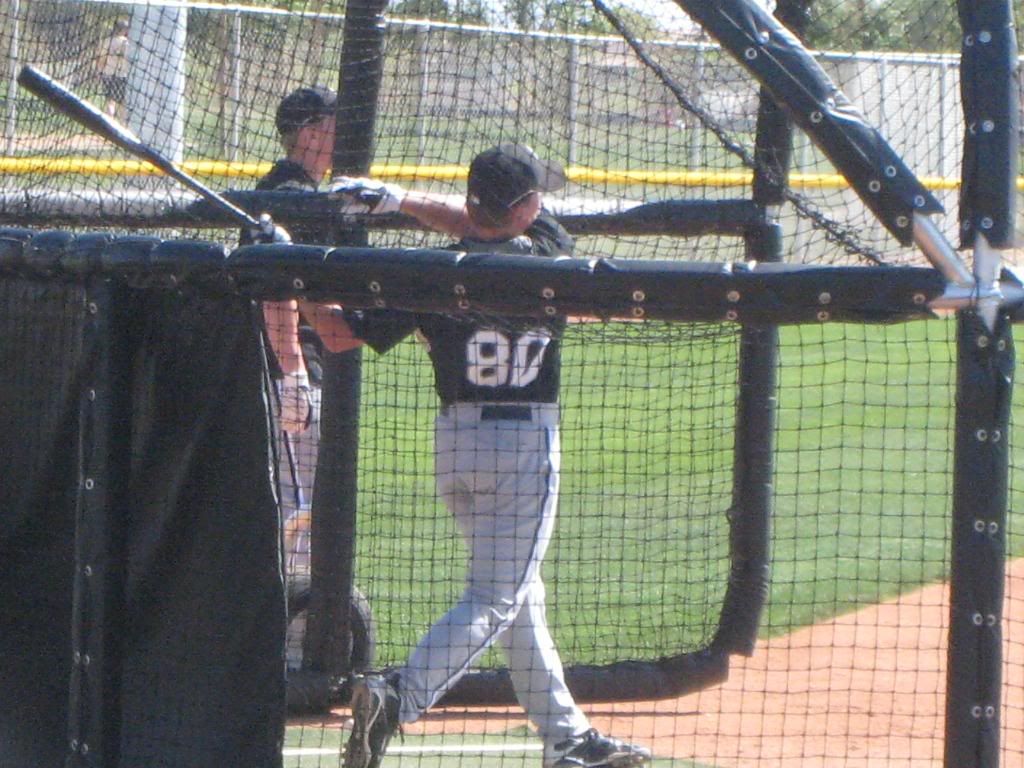 we then went around behind the outfield fence to where John Danks (we think he's #50) was messing around with a bat. i also managed to grab a ball out there that Beckham hit.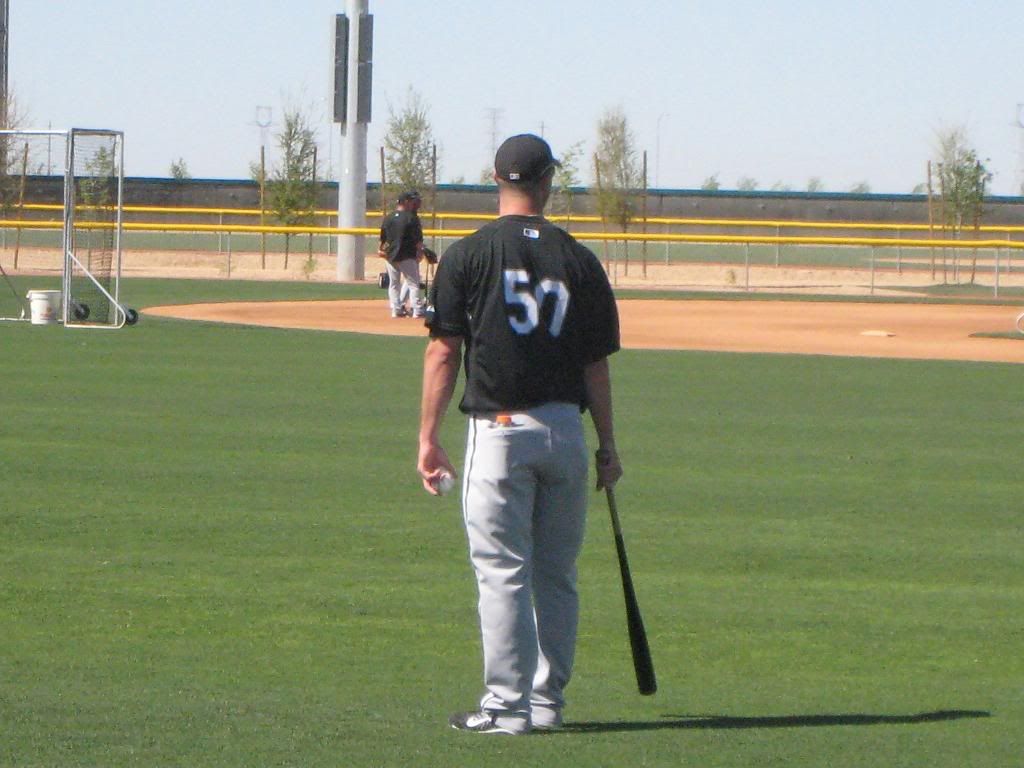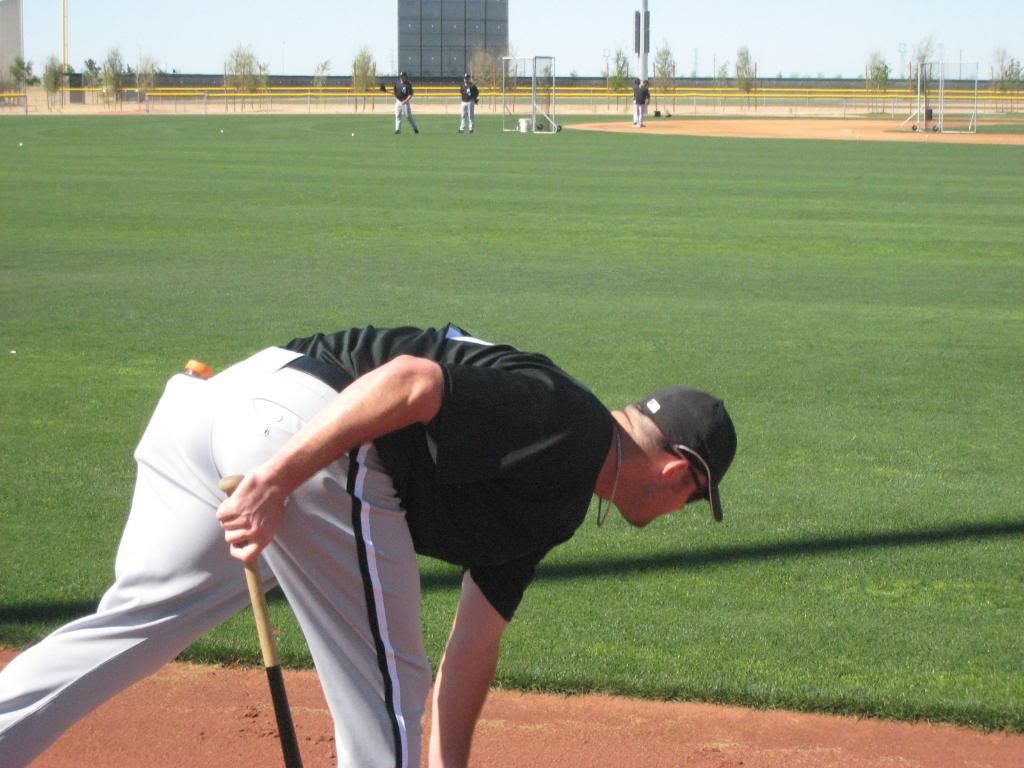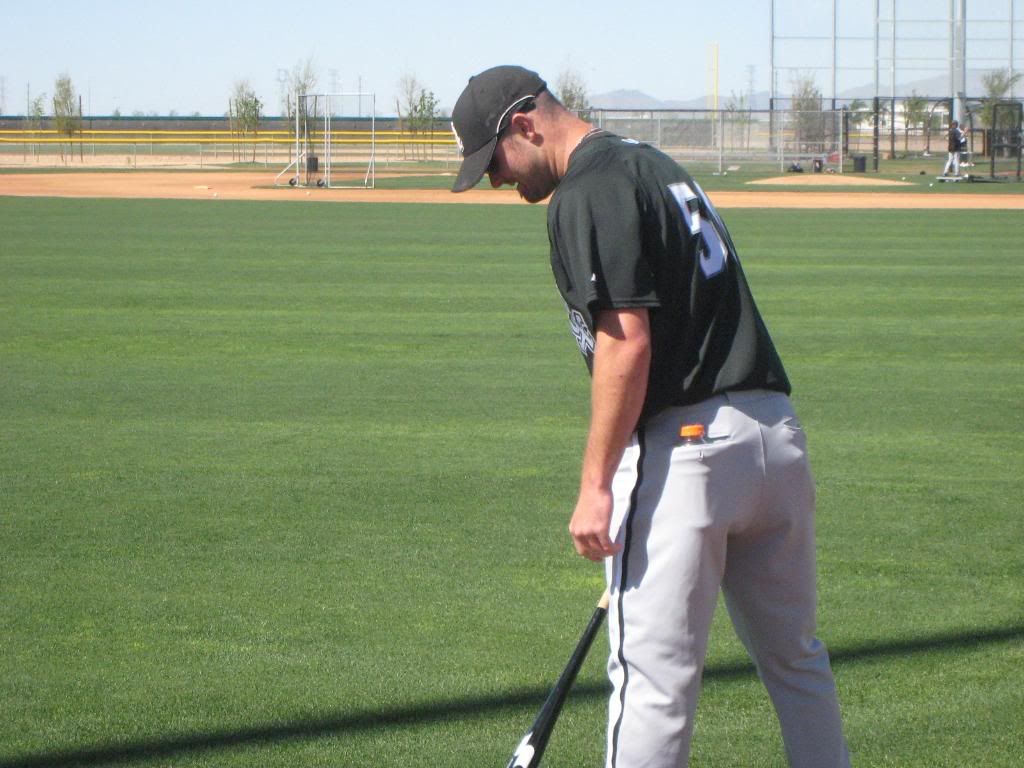 Danks managed to shatter his bat playing tennis with it hitting it back and forth with another player.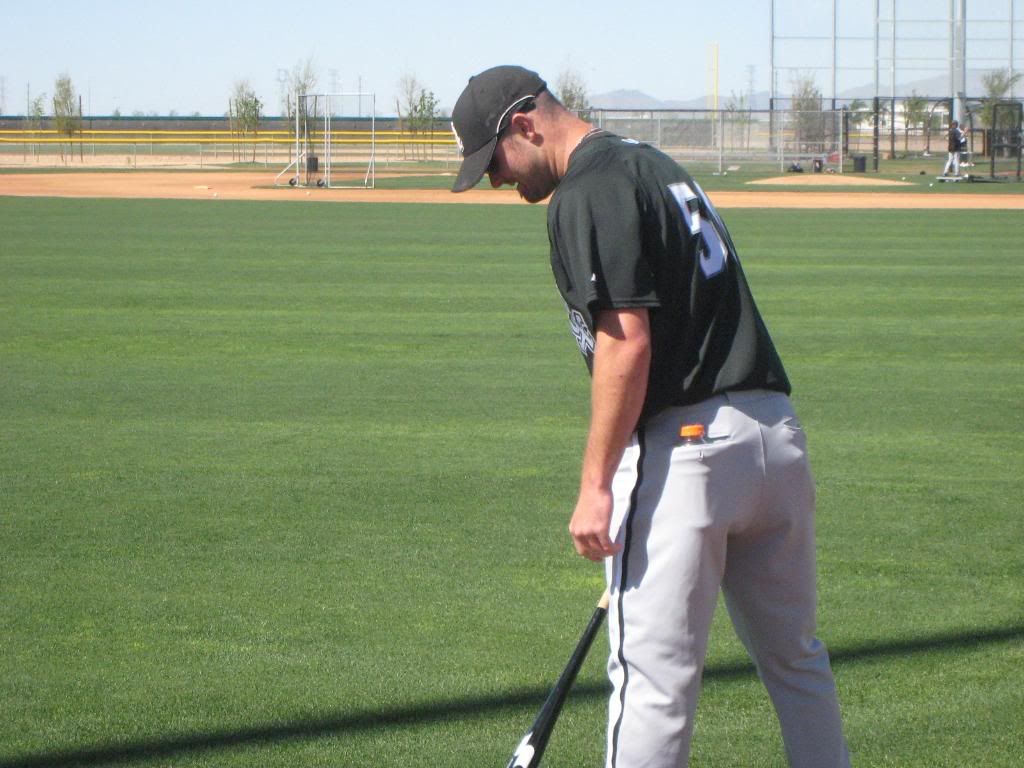 We walked around the complex and checked out a bunch of fields where Dodger's minor leaguers were working out. i have no idea who these guys are...
After that we moved on and saw some work outs with the actual team including jason schmidt lol.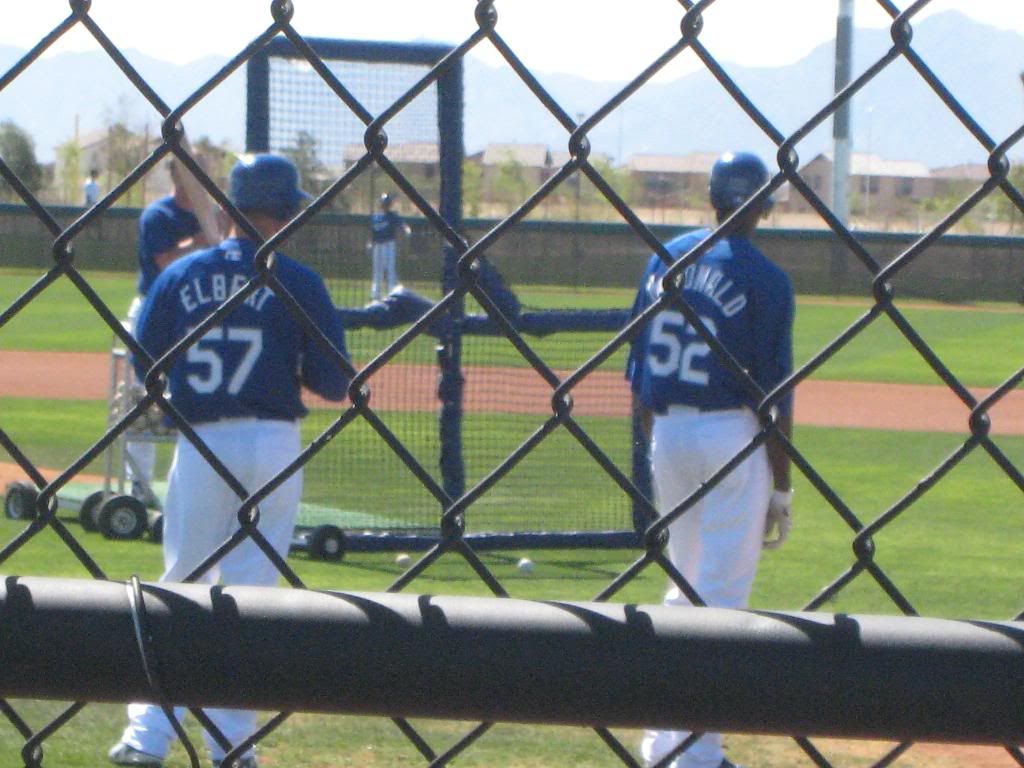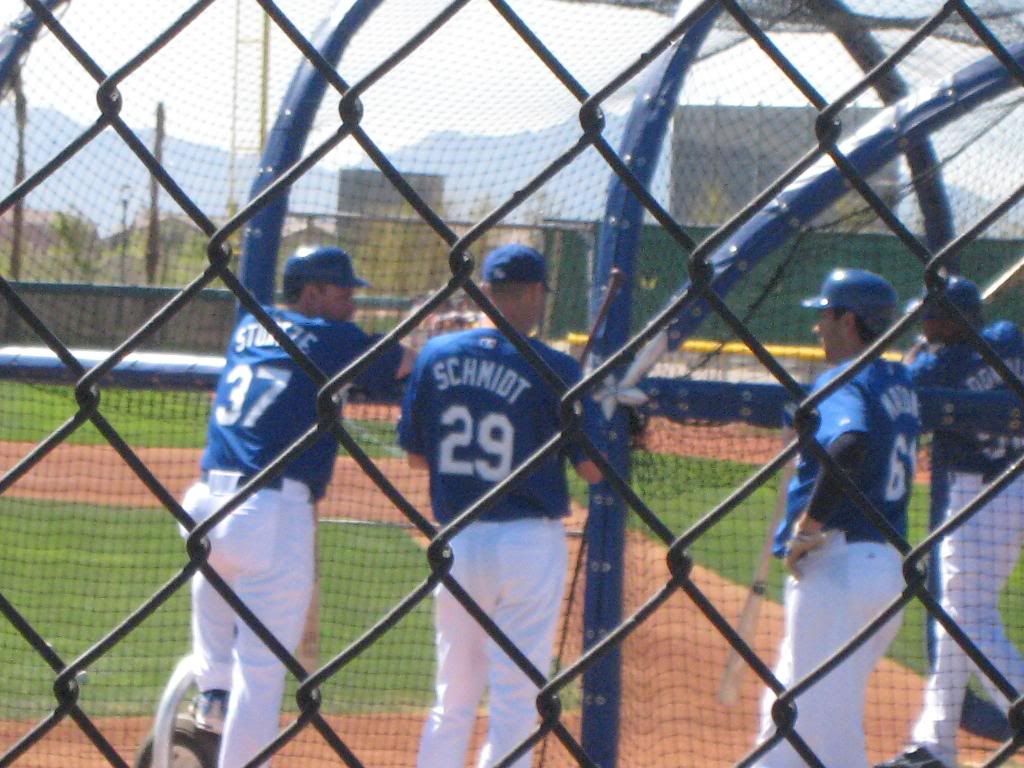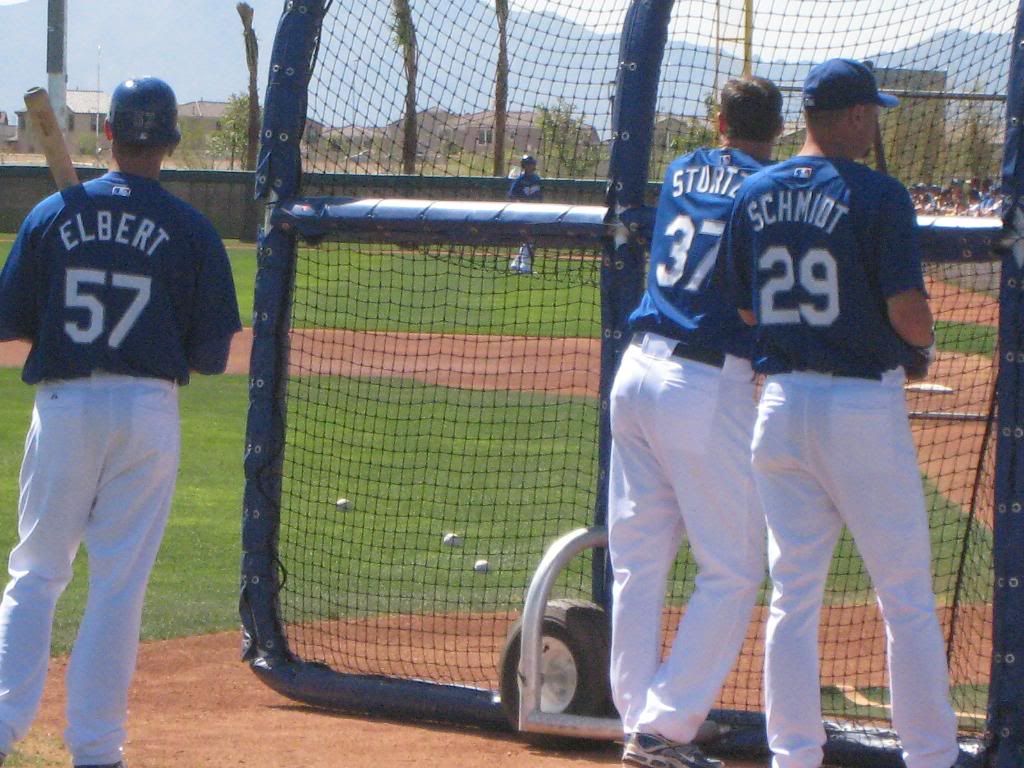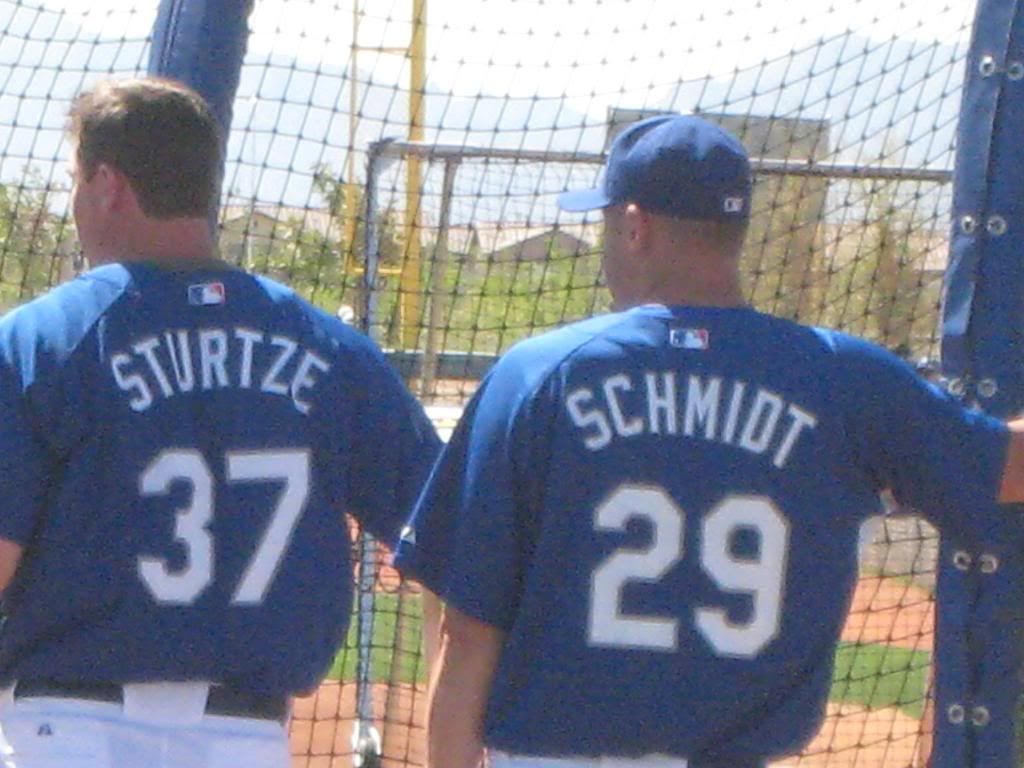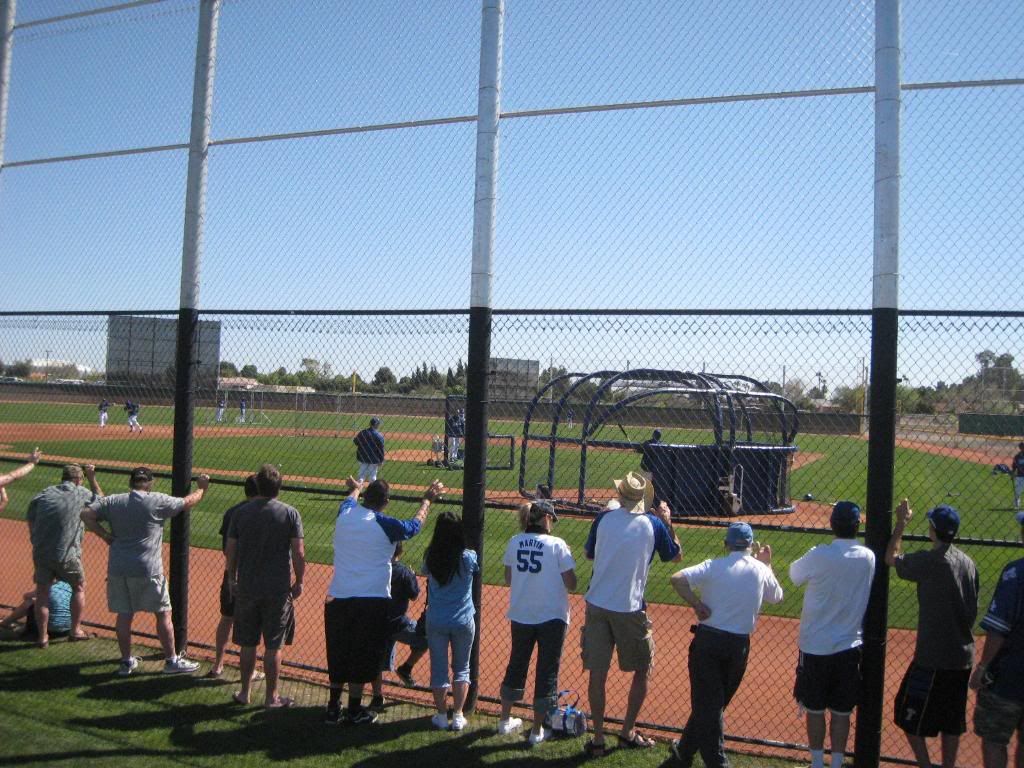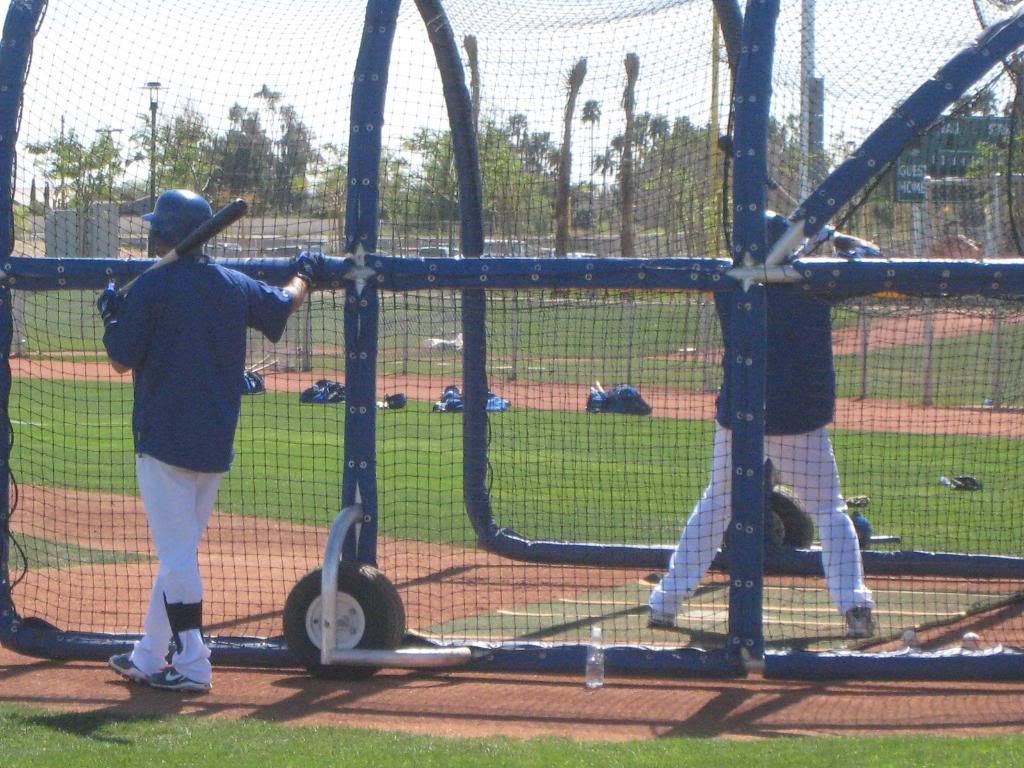 they finally opened the gates and our seats were the 2nd row behind the Rangers dugout, pretty awesome.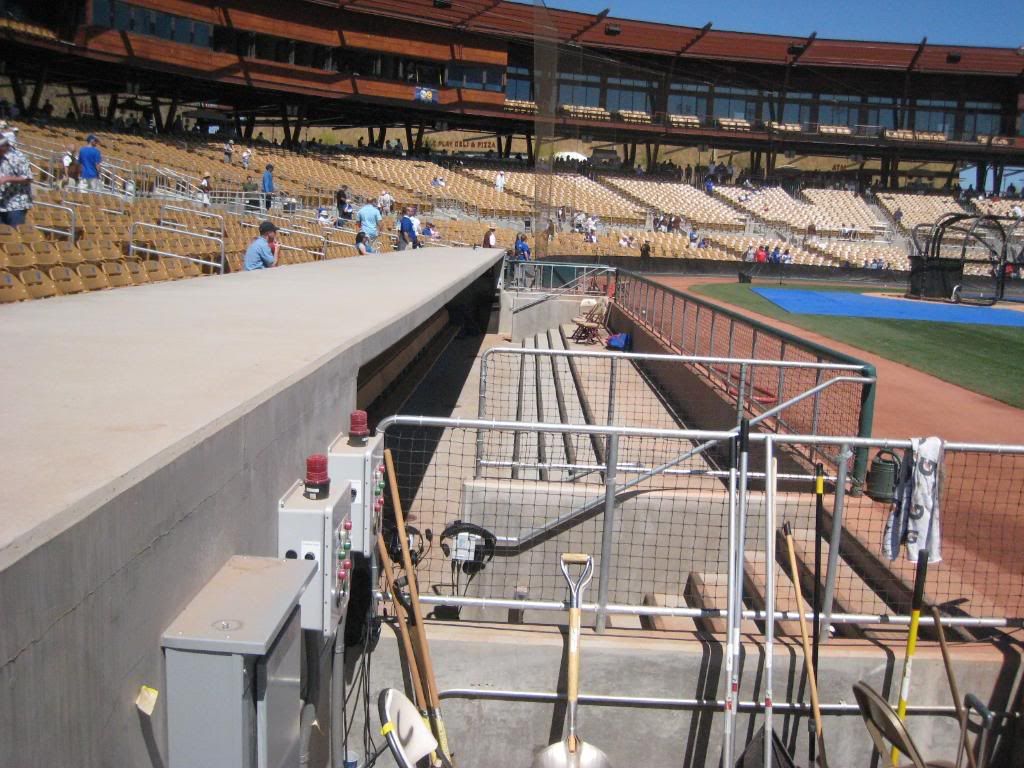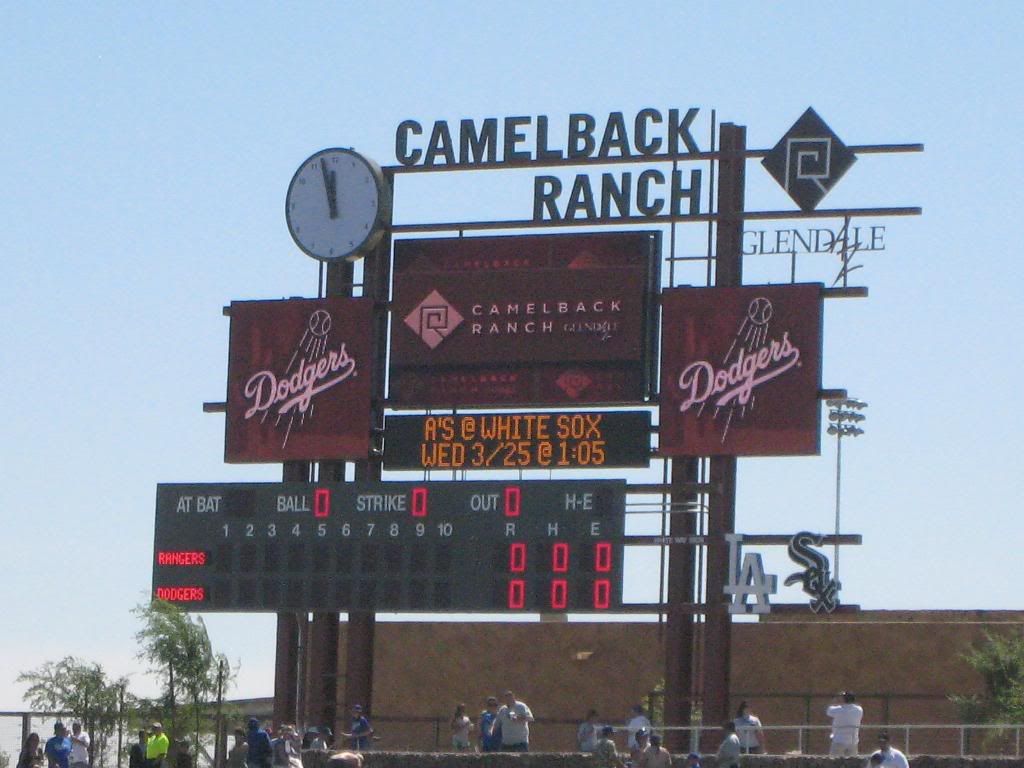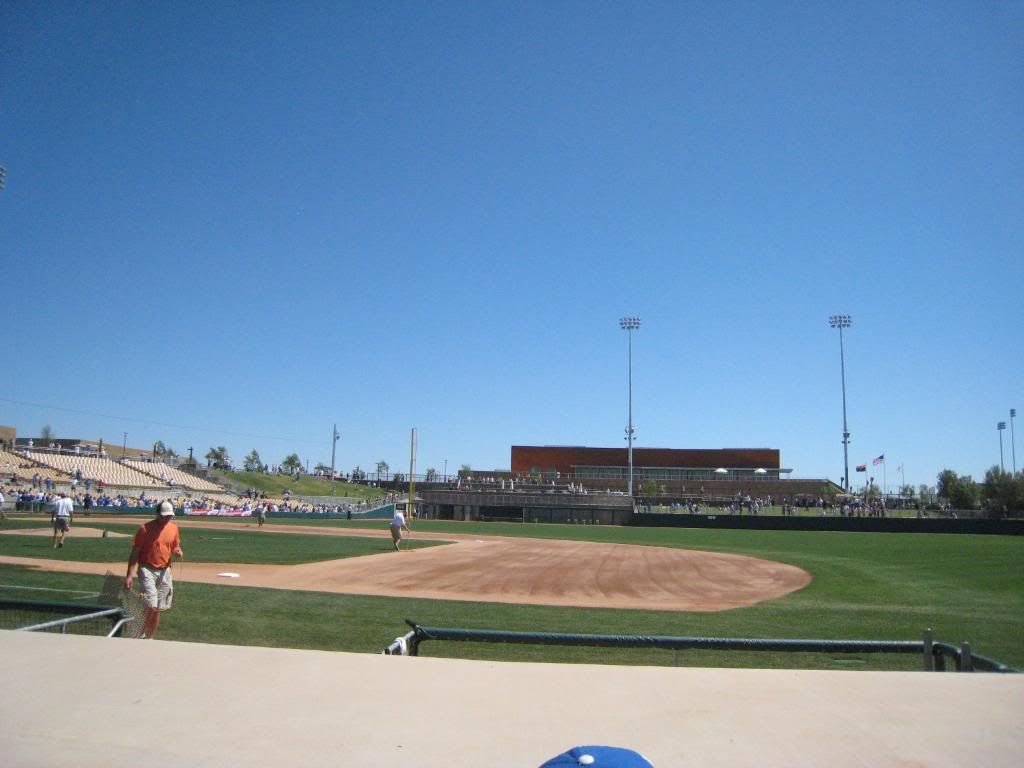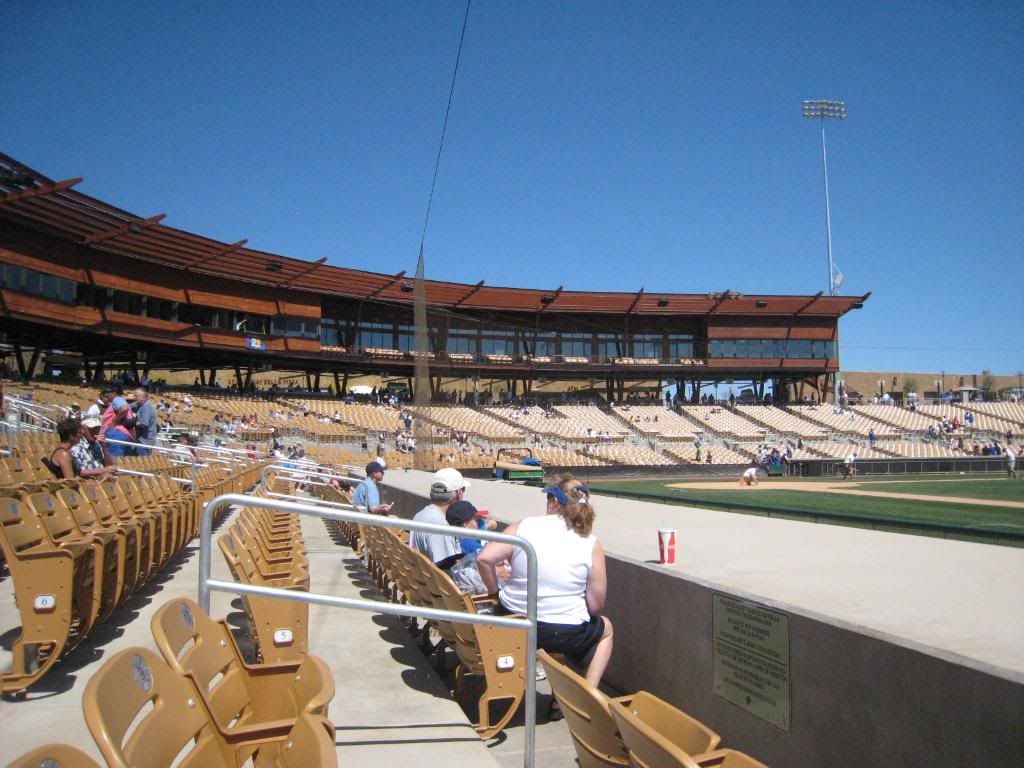 Rangers warming up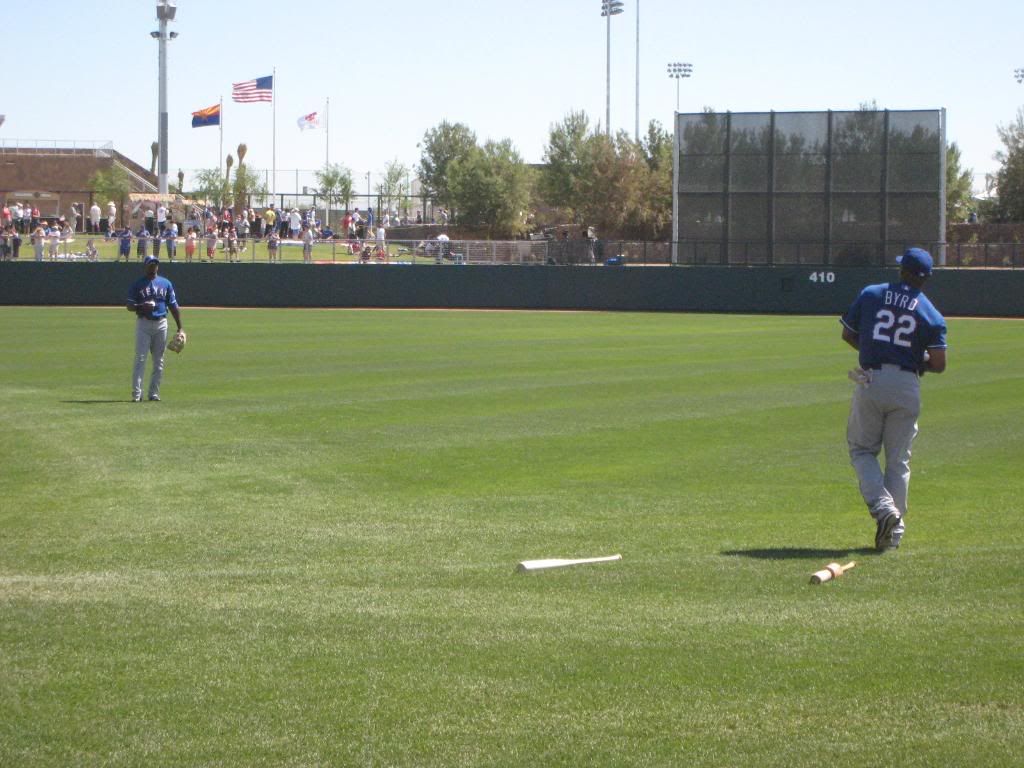 the guy facing the camera is Elvis Andrus btw
David Murphy (L) and Chris Davis (R)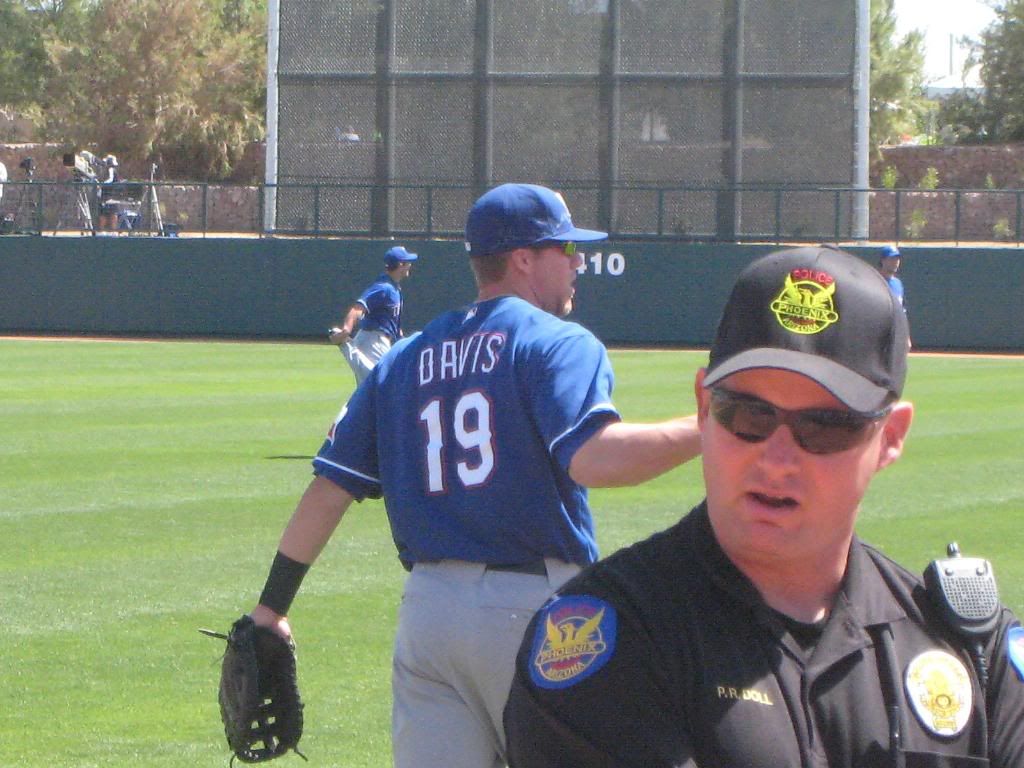 JOSH! <3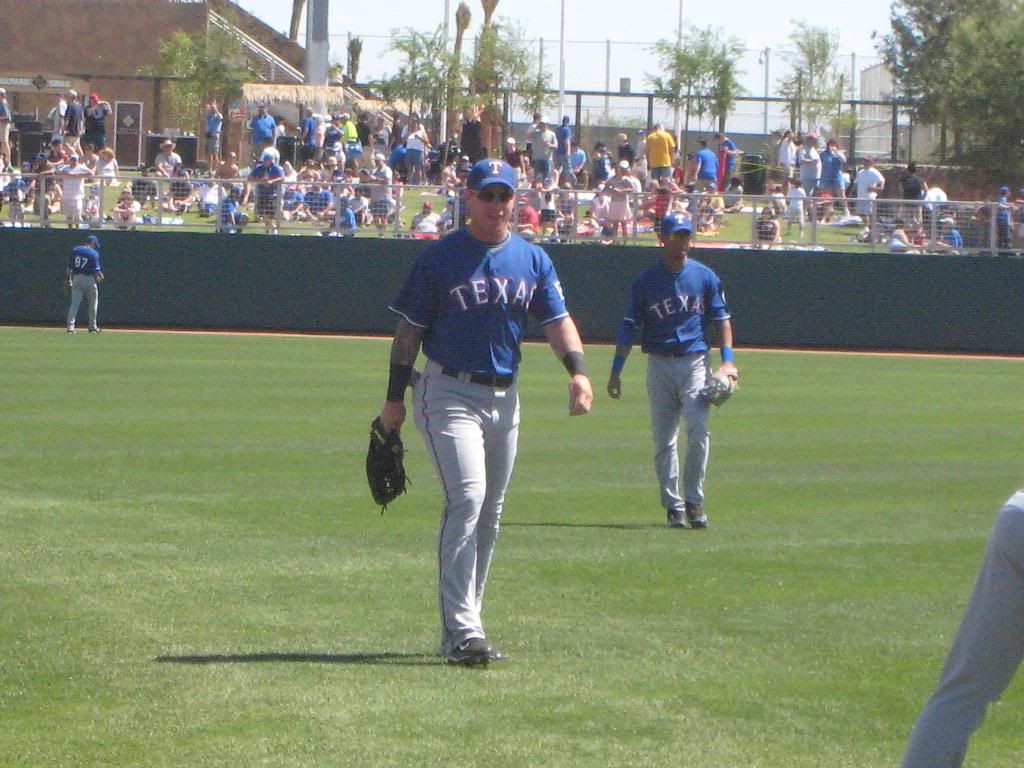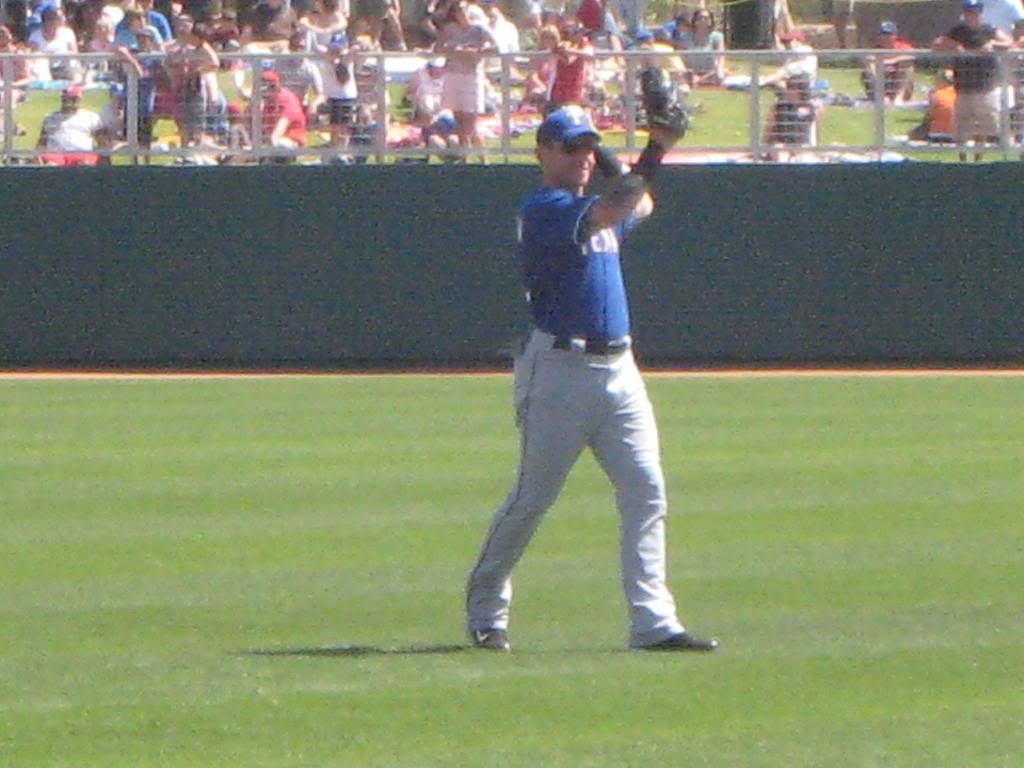 Hamilton is a ridiculously nice guy. After about 10 minutes of warming up, he came over to the stands and just signed autographs and took pictures with fans until the game started, must have been like 30-45 minutes of just signing. he really looked like he just enjoyed being there and playing baseball. it was really cool to see close up, plus i got an autograph! I thought he was awesome before but now i'm in like super-mega-mancrush mode.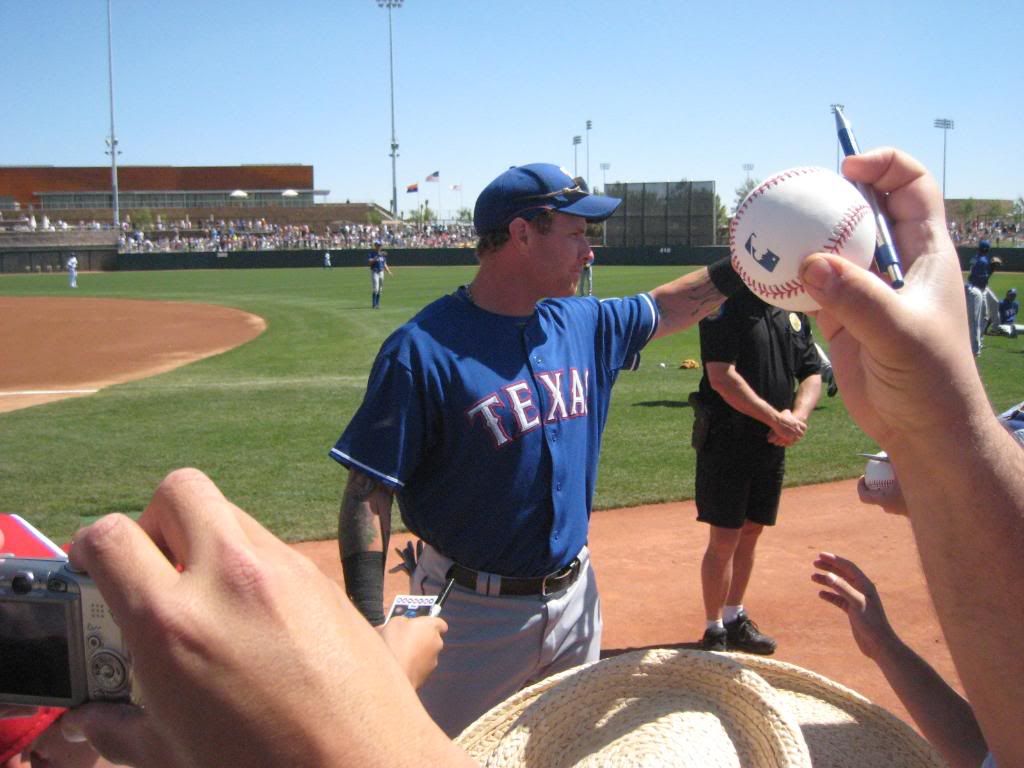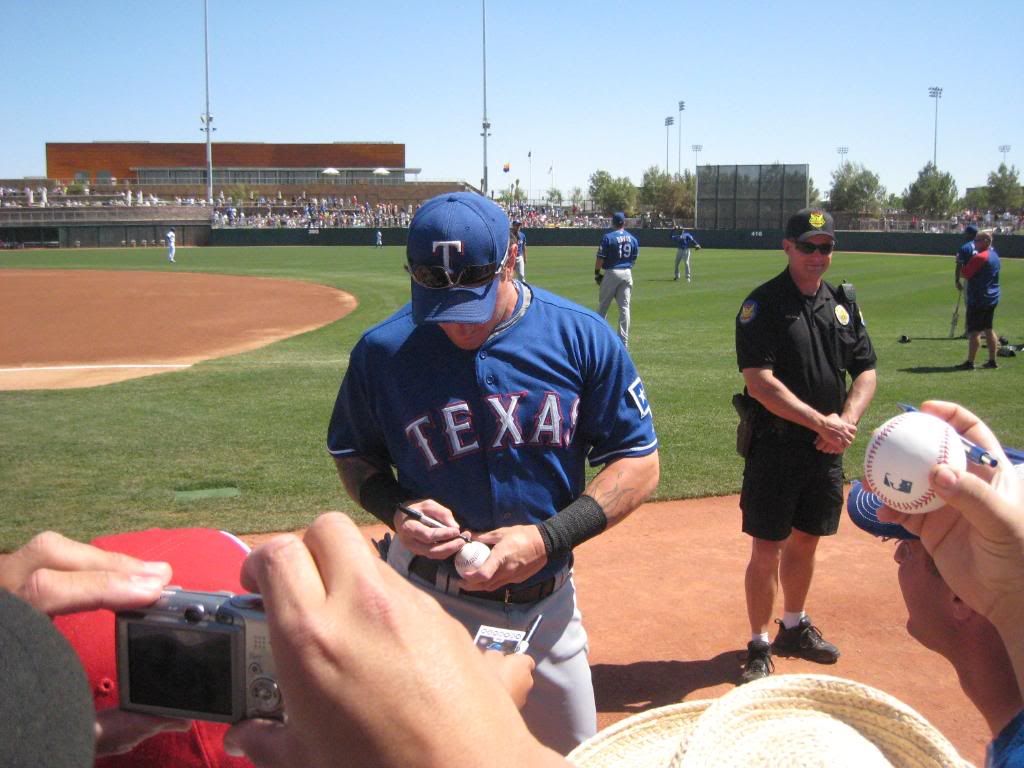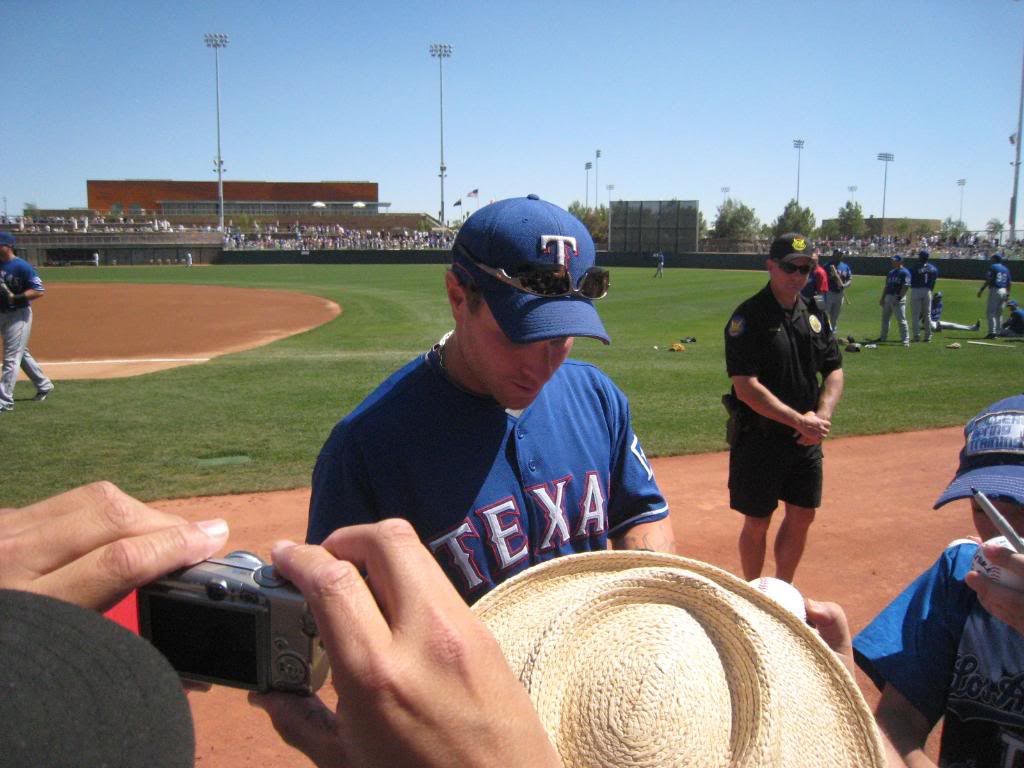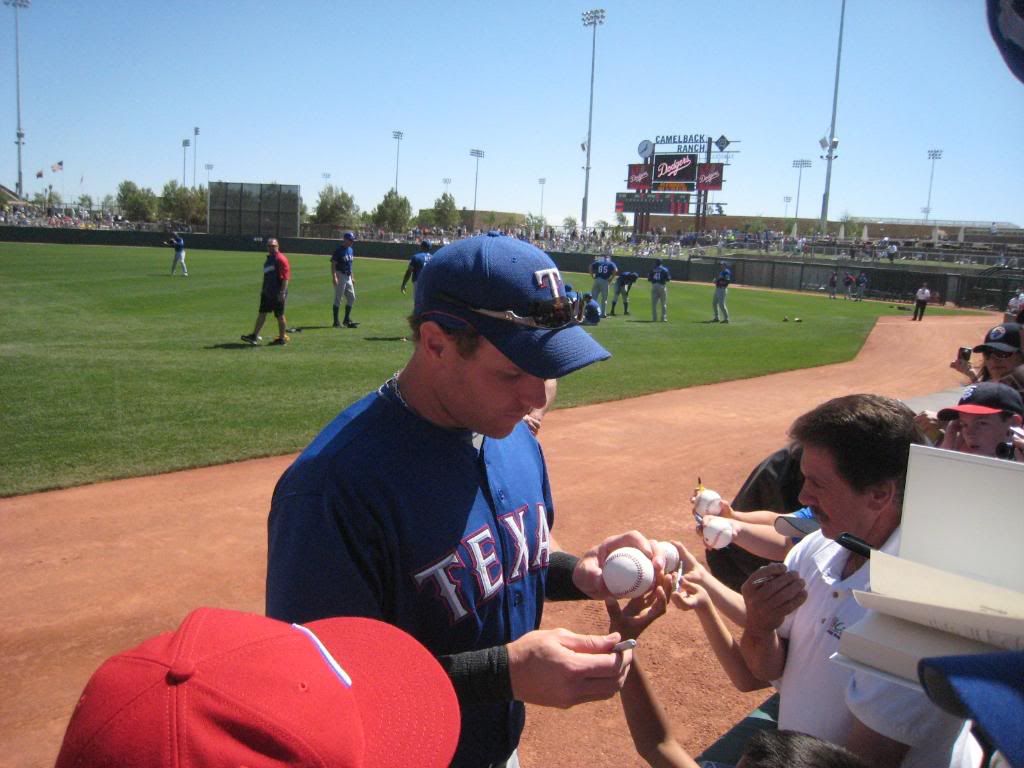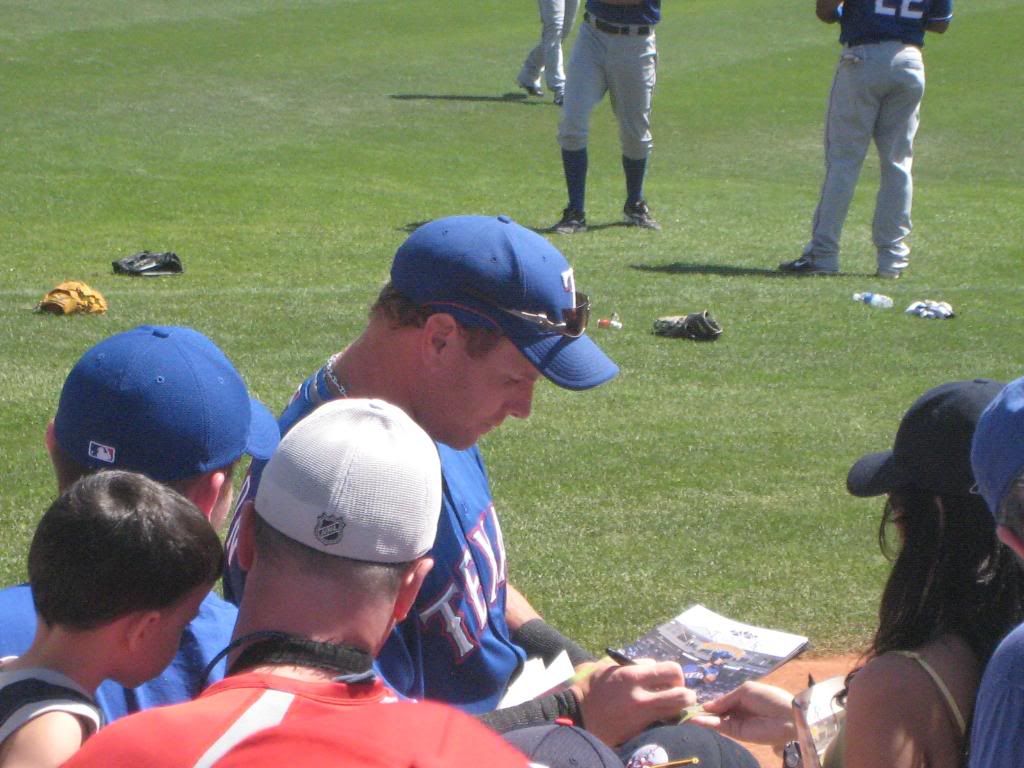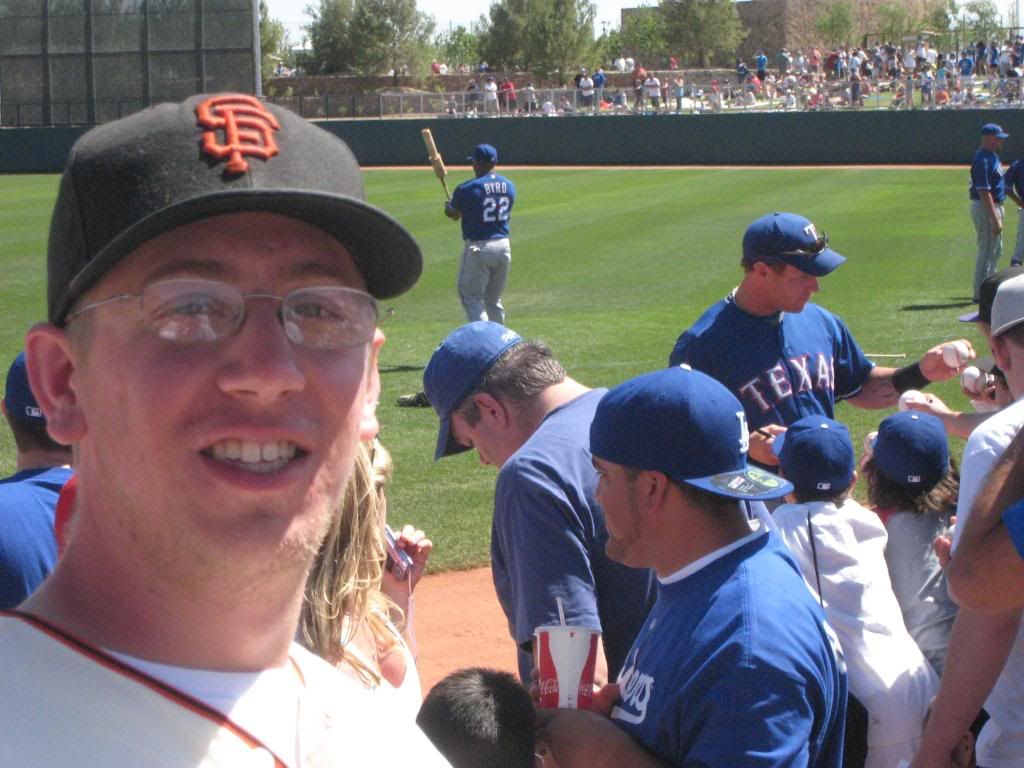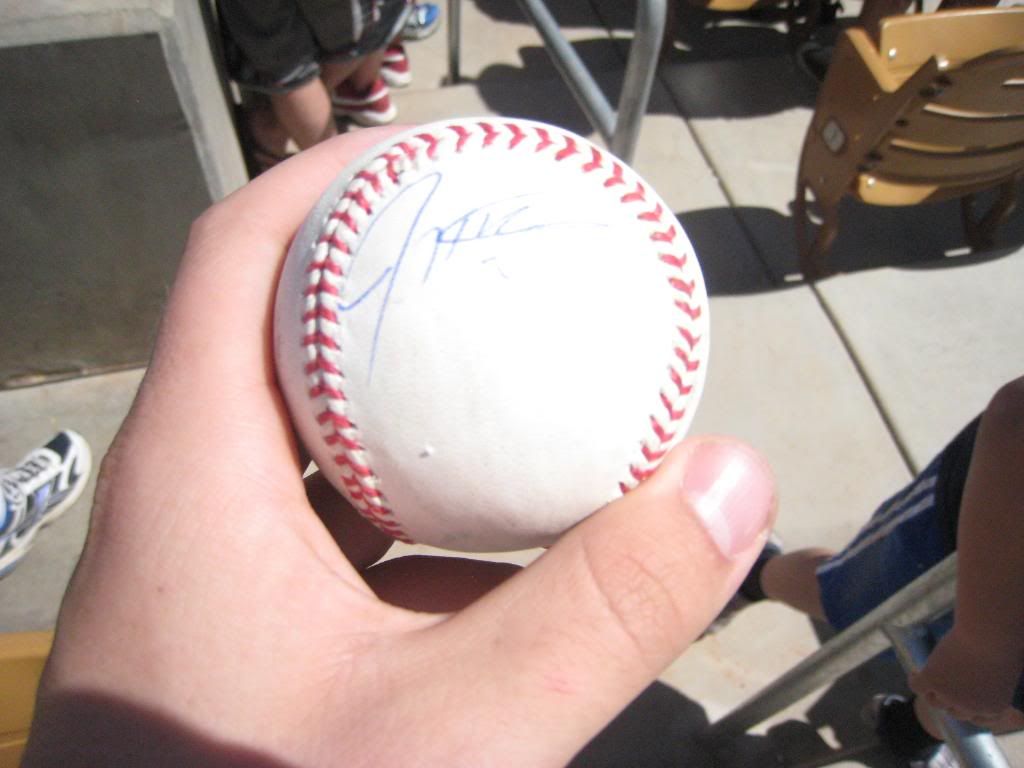 other random pics from the game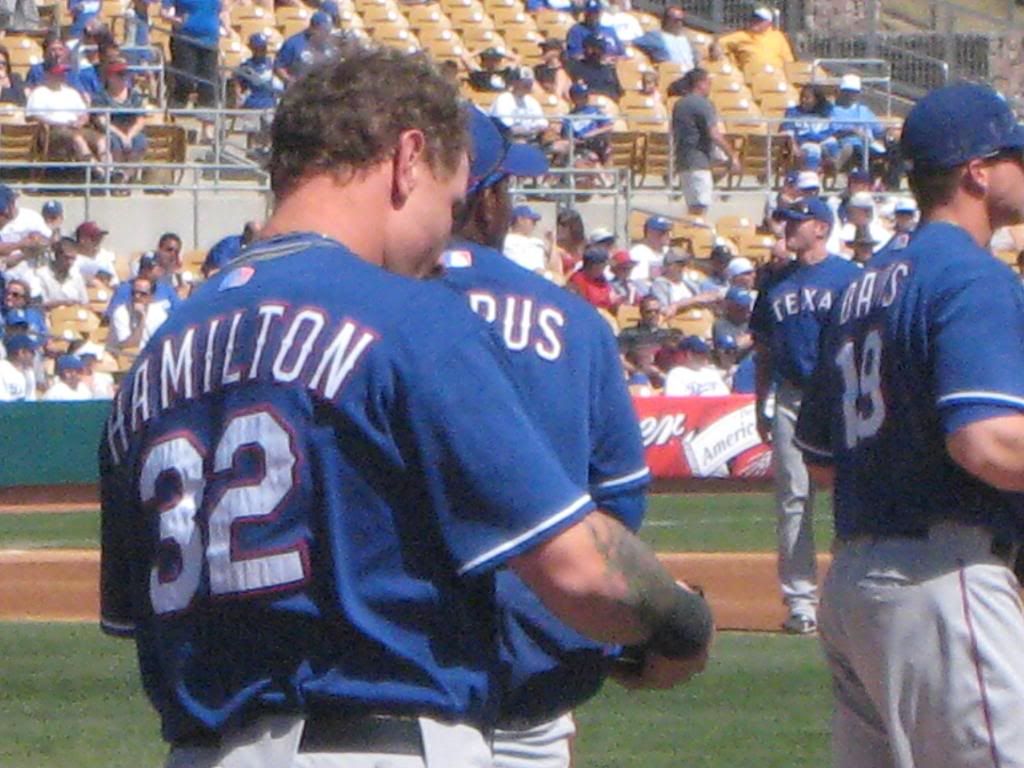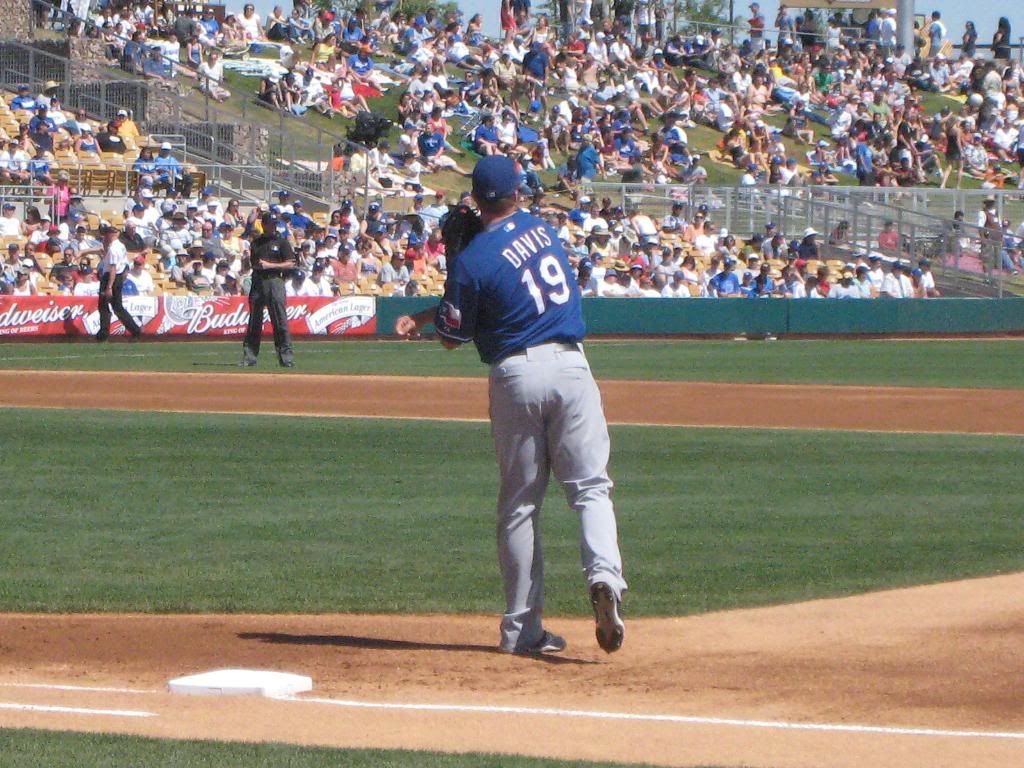 this one furcal slap bunted a ball past the charging 3B for a double, it was pretty cool.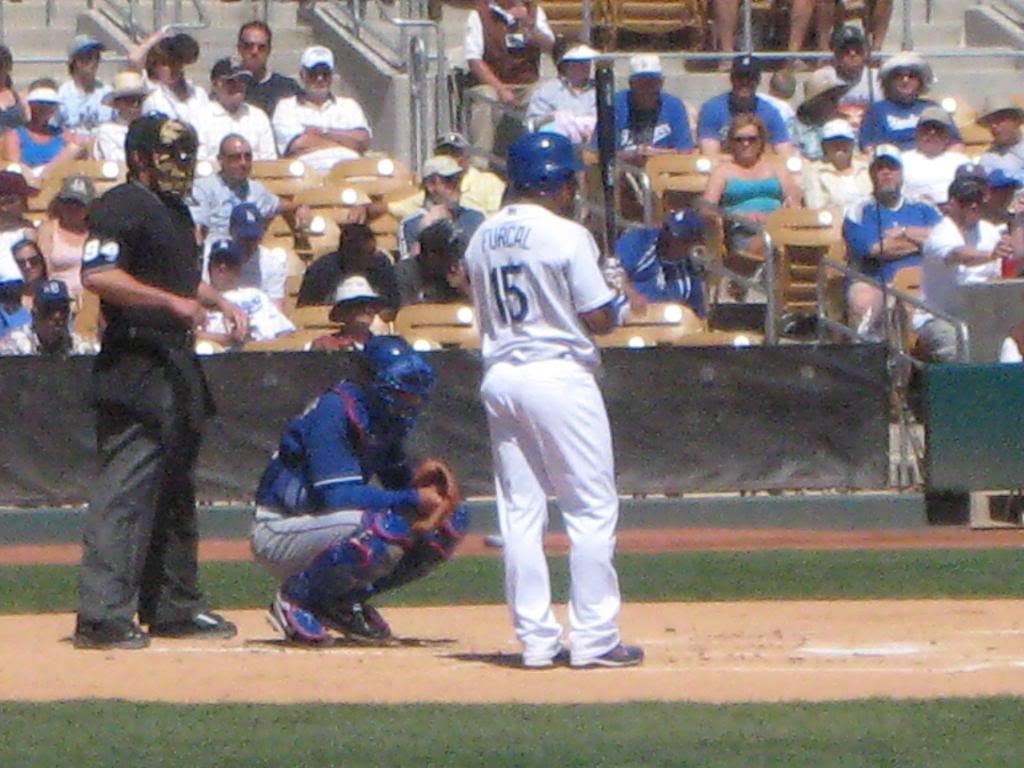 the guy next to me thought juan pierre should be an everyday player.... silly dodger fans...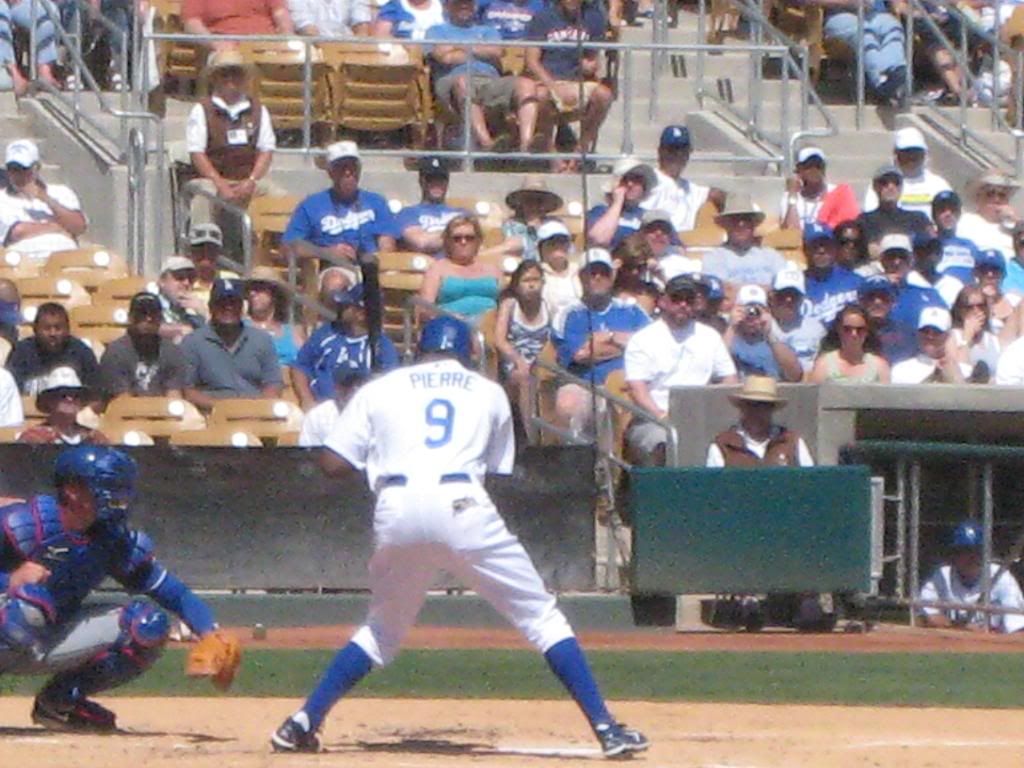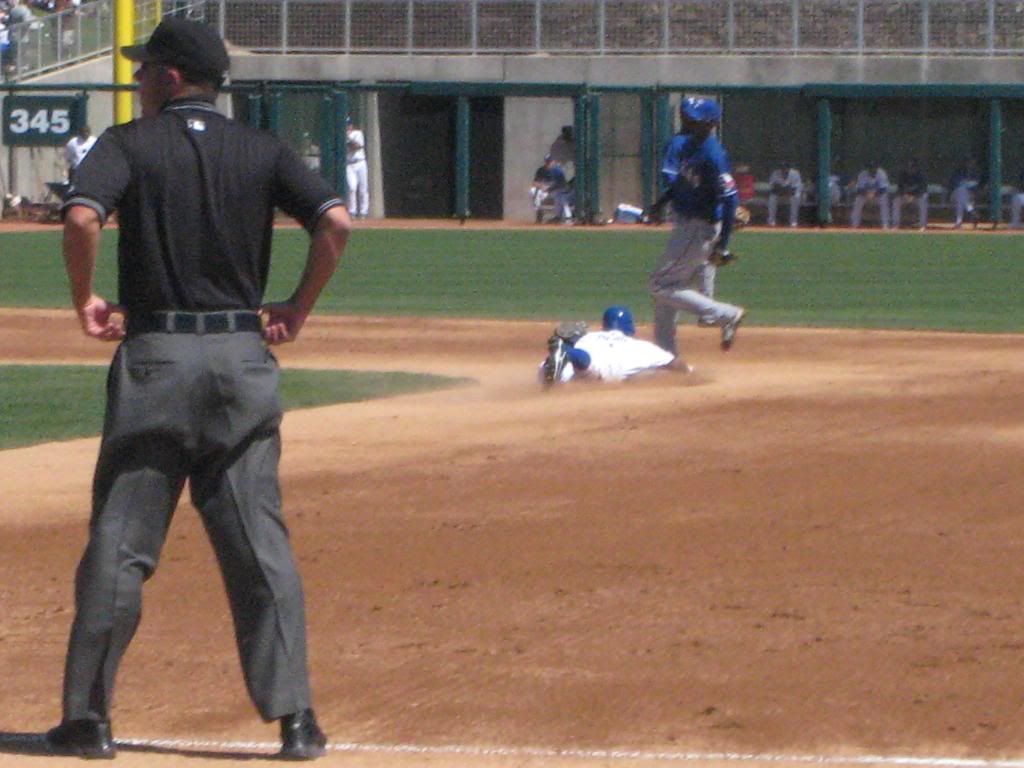 we left a little early, once all the everyday players were out of the game and there was nobody left in we cared about. the whole trip was a ton of fun, and i highly recommend that if you have a chance to make it down to spring training sometime that you go. if anyone is interested it'd be cool to have a cafe meet up next year with anyone who can make it. Hope at least some of you enjoyed the pics, sorry there are so many, i didn't even include most of them, just the ones i liked the most.