Edit: I took the slow motion gifs thing and ran with it a bit, here is a commercial from them.
http://www.vimeo.com/2587322
----------
I've made a lot of various graphics for a rangers forum over the year, I happened by this section again and figured it wouldnt hurt to throw them into a post.
I'll link all but one because I imagine it would be annoying to load them all at once.
still image made into .gif in the nba commercial fashion, heres a
large detail version
that would take up too much space in page -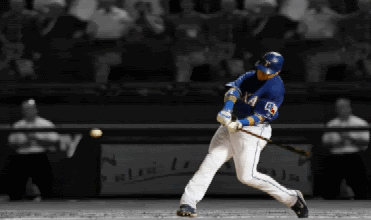 Michael young in same style
Hamilton HR derby edit
, beware - hes dangerous.
The 1000th variation of a zoolander gif
, but hey.. still fun.
Rangers offense takes action against the pitching
, edited entourage clip.
Ranger management triumverate
in another oft-edited clip.
K-Rod is struck down mid-celebration.
No wonder Aybar was freaking out.
Very simple Hamilton desktop
Ranger planet desktop
.. didnt turn out how I wanted but i might try it again
very simplistic logo wall
panoramic photo of the ballpark i put together
More of my k-rod hate
well ive got like 3x that with a lot of wallpapers and various little images, but I figure people stopped clicking 10 images ago as is =)